Richmond Hill Love Letter is a storytelling, art, and oral history program aiming to strengthen community by highlighting all there is to love about Richmond Hill, Queens!

Learn more about the series HERE.

Read about our 2016 Culminating Celebration below.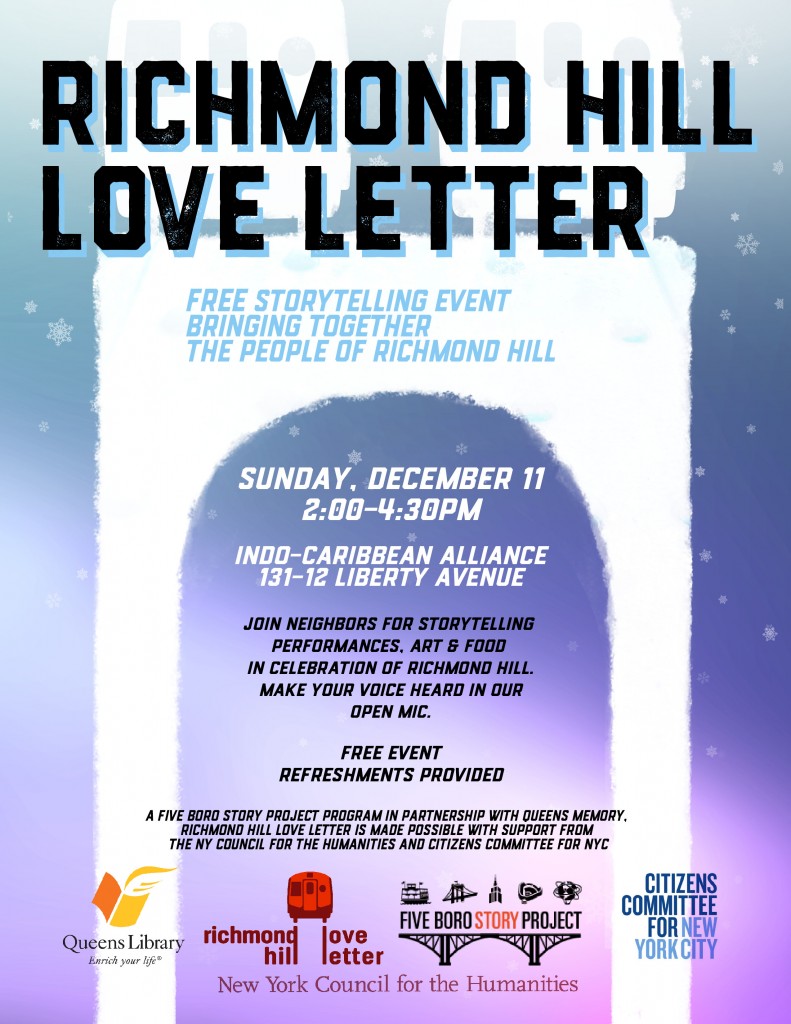 RICHMOND HILL LOVE LETTER
CULMINATING EVENT
Sunday, December 11, 2:00-4:30pm
Indo-Caribbean Alliance, 131-12 Liberty Avenue
Join us for a celebration of Richmond Hill and the people of Queens!
From April-November 2016 "Richmond Hill Love Letter" workshops brought together the people of the Greater Richmond Hill area each month to share stories and memories, and write love notes to the neighborhood. At our culminating event on Dec 11th:
* Hear true life stories about Richmond Hill from featured storytellers:
– Wendy Angulo, mother, writer, lawyer and advocate of poetry and visual arts in Queens
– Bridget Bartolini, artist, educator, Five Boro Story Project Creator, and proud Richmond Hill native
– Richard David, Co-Founder of Indo-Caribbean Alliance, and Chair of Economic Development at Queens Community Board 9
– Nadia Misir, writer who is crafting a novel based in her hometown of Richmond Hill and Guyana
* Experience a dance performance by Richmond Hill dancer Sean Kulsum
* Express yourself in our open mic and share your own memories, stories, and more
* Read neighborhood love notes that have been written in our workshops this year, and write your own love letter
* View historical photos and archival treasures from the Queens Memory Archive
* Enjoy delicious refreshments from local shops and restaurants
* Bring your own Queens photographs (anything from old or recent family photos, to pics on your cell phone) and Queens Memory will digitize them for inclusion in the Archives at Queens Library's collections, and save them to a thumb drive that you can take home.
FREE EVENT!
DIRECTIONS:
Indo-Caribbean Alliance (ICA) is located at 131-12 Liberty Ave between 131st & 132nd St (next to Singh's Roti Shop & Bar, and one block from Sybil's). You can take the A train to Lefferts Blvd and walk 12 short blocks, or take the Q112 bus directly there. Enter through the gate with the "ICA" sign, walk to the backyard, and take the stairs to the basement level.
Learn more about the Richmond Hill Love Letter series HERE.
View photos from "Richmond Hill Love Letter Culminating Celebration"

HERE

.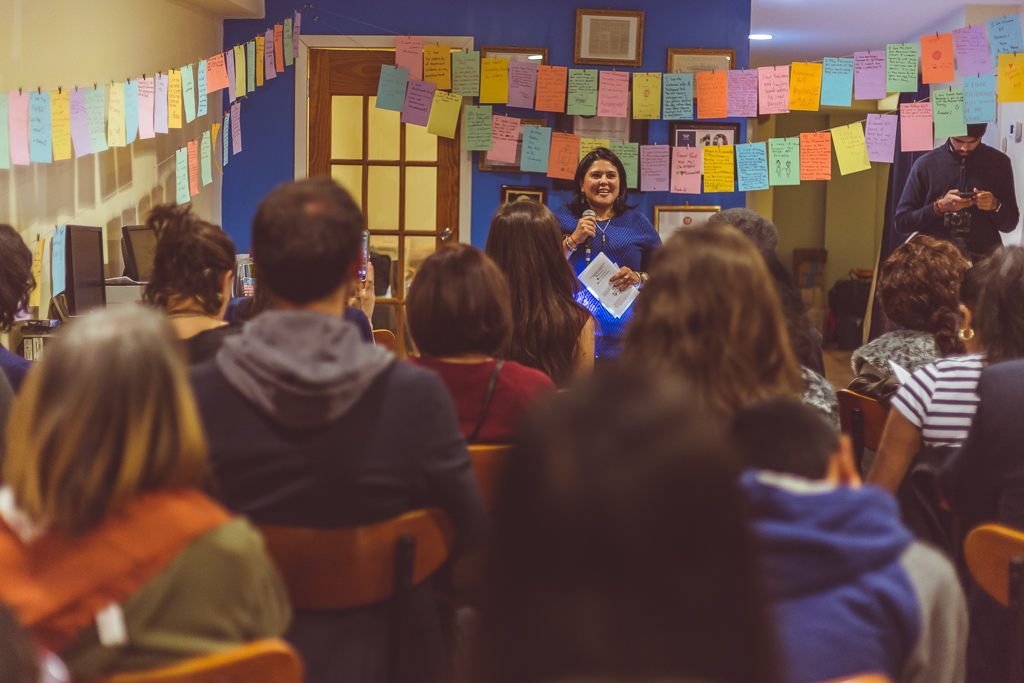 Watch "Richmond Hill Love Letter" highlights: