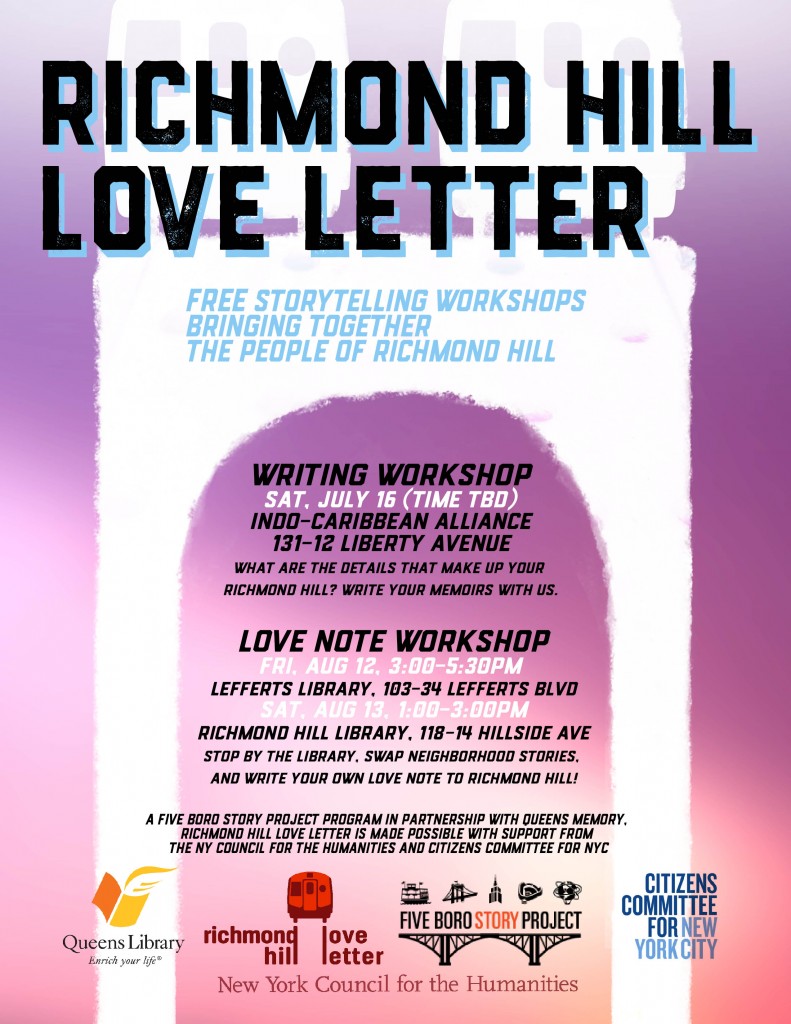 LOVE NOTE WORKSHOPS
Friday, August 12, 3:00-5:30pm
Lefferts Library, 103-34 Lefferts Blvd
&
Saturday, August 13, 1:00-3:00pm
Richmond Hill Library, 118-14 Hillside Ave
Stop by the library, swap neighborhood stories with the Richmond Hill Love Letter team, and join a discussion about our neighborhood. Write your own love note to Richmond Hill for display outside the library.
Queens Memory will set up an archiving station, so bring any Queens photos and memorabilia you'd like to contribute to the Queens Memory archives, and get a free flash drive with digitized versions of your photos!
The Lefferts Library is located at 103-34 Lefferts Boulevard between Liberty Avenue and 103rd Avenue. It is steps from the A train at Lefferts Blvd, and the Q8, Q10, and Q112 buses.
The Richmond Hill Library is located at 118-14 Hillside Avenue between Lefferts Blvd and 118th Street. It is steps from the J, Z train at 121st Street, and the Q10, Q55, and Q56 buses.
RICHMOND HILL LOVE LETTER WRITING WORKSHOP
August (Date & Time TBA) This event is no longer taking place on July 16. A new date will be announced.
Indo-Caribbean Alliance, 131-12 Liberty Avenue
What are the details that make up your Richmond Hill? Join our writing workshop and write your memoirs about experiences in the neighborhood. Your writing may be featured in the Richmond Hill Love Letter culminating event in November!
FREE WORKSHOP
More details to come!
Indo-Caribbean Alliance is located at 131-12 Liberty Avenue between 131st and 132nd St. It is accessible by the Q112, Q8, and Q41 buses.
ADDITIONAL "RICHMOND HILL LOVE LETTER" PROGRAMS & DATES TO BE ANNOUNCED.
STAY TUNED!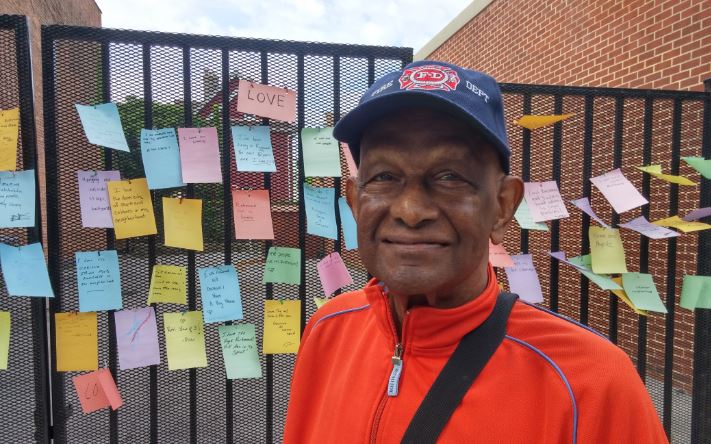 Richmond Hill Love Letter is a storytelling, art, and oral history program aiming to strengthen community by highlighting all there is to love about the neighborhood of Richmond Hill, Queens. This program is a collaboration with Queens Memory, made possible with the support of the New York Council for the Humanities and Citizens Committee for New York City. Find out more HERE.
****
CITY OF STORIES: JACKSON HEIGHTS
Sundays, August 7, August 21, September 4
12:00-6:00pm
Manuel de Dios Unanue Triangle, 83rd Street between Baxter and Roosevelt Avenues, Elmhurst
Five Boro Story Project and Priscilla Stadler will be collaborating with artist Ro Garrido's "A Living Room on Roosevelt" to present City of Stories: Jackson Heights.
City of Stories: Jackson Heights will invite passerby to write down memories, stories, and wishes for Jackson Heights and Elmhurst, and hang their stories to create a colorful city out of paper buildings.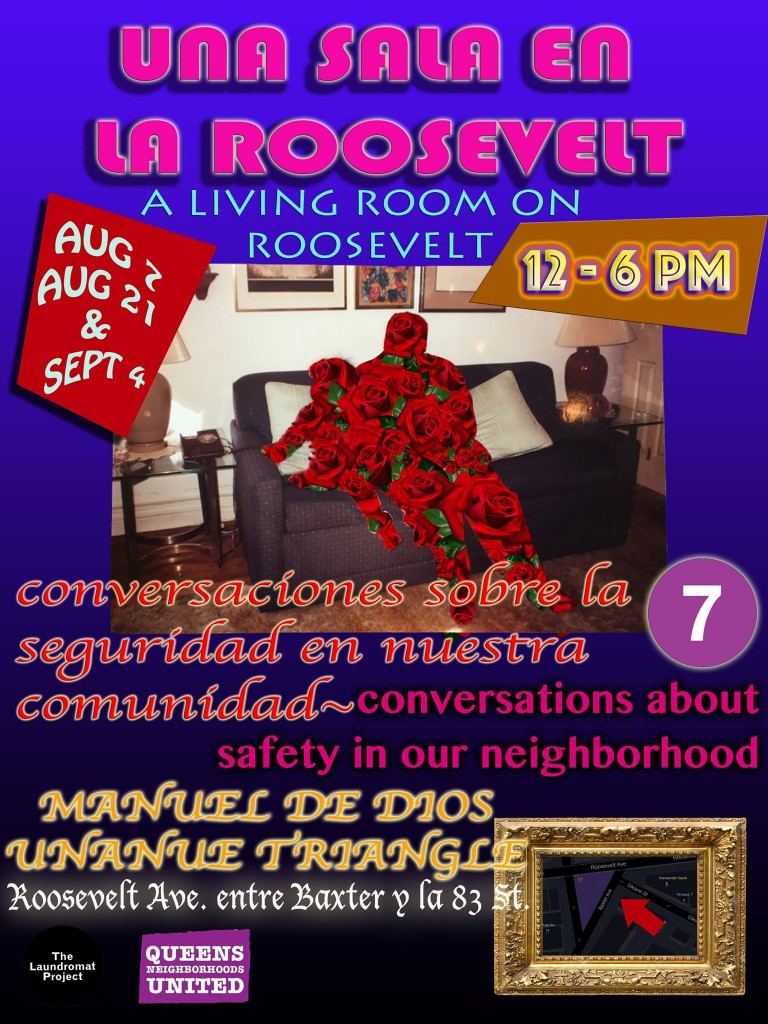 "A Living Room on Roosevelt / Una Sala en La Roosevelt" brings an interactive living room, a typically private and domestic space, into the commercial corridor of Roosevelt Ave with the purpose of creating an intentional space for community members to have conversations, and share knowledge and history related to issues of community safety in Jackson Heights. In partnership with Queens Neighborhoods United (QNU), a local grassroots group that works directly on issues of gentrification and displacement, conversations are tied to current issues in the form of open dialogues on the street or facilitated group conversations. The living room also serves as a growing visual memory archive of personal and collective immigrant narratives in Jackson Heights.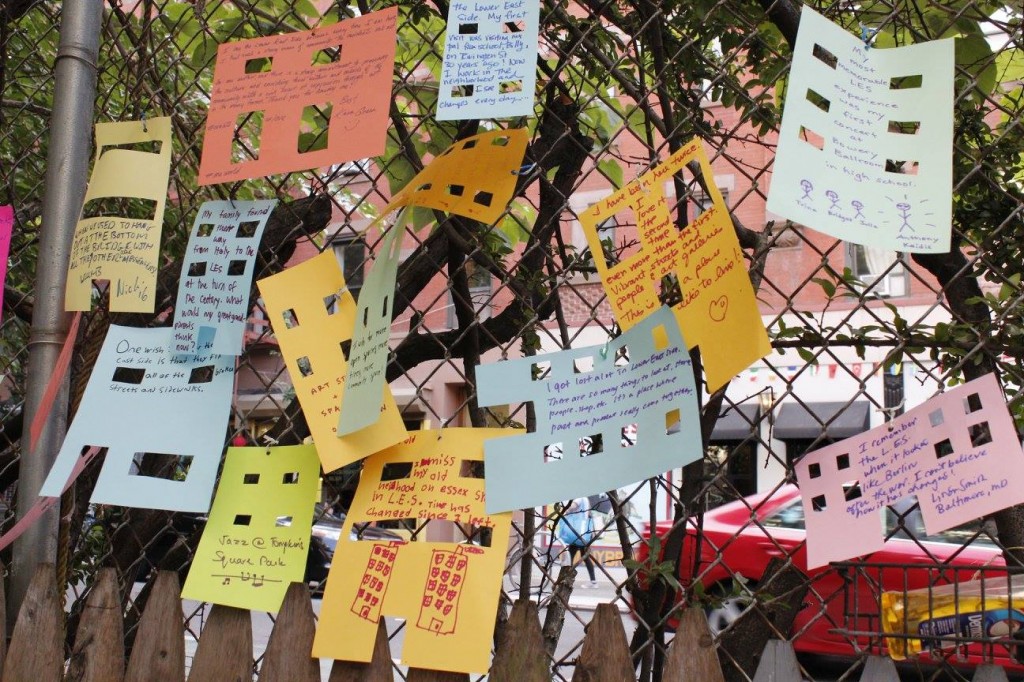 City of Stories is a participatory installation that creates contemplative, interactive spaces where community members and passerby can write memories, stories, and wishes for their neighborhood. Developing from the intersection of Bridget Bartolini's Five Boro Story Project, a neighborhood storytelling program, and Priscilla Stadler's Fragile City, an installation series of cheesecloth buildings, City of Stories invites the public to collaboratively create their own art intervention. Participants write down their stories on paper buildings, mirroring the Fragile City buildings, hang them for the installation, and read the stories of others. As the paper buildings amass, they transform public spaces into a colorful city, made up of stories that provide a powerful sense of community members' experiences, concerns, and visions.