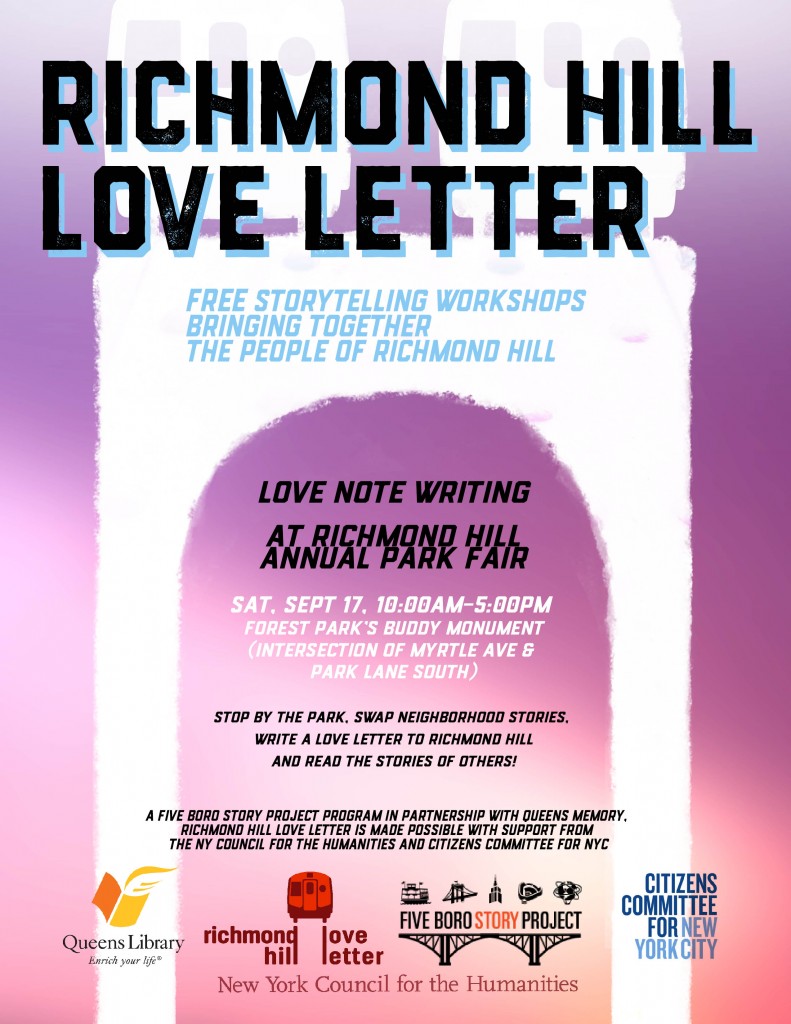 LOVE NOTE WRITING
AT THE RICHMOND HILL BLOCK ASSOCIATION'S ANNUAL PARK FAIR
Saturday, September 17, 10:00am-5:00pm
Forest Park's Buddy Monument
(intersection of Myrtle Ave & Park Lane South)
Stop by beautiful Forest Park for a special edition of "Richmond Hill Love Letter" at Richmond Hill Block Association's Annual Park Fair!
Swap neighborhood stories, join discussions about our neighborhood, and write your own love note to Richmond Hill. Love notes will be displayed in the park, and you can read the stories of others and get to know our community better.
The Queens Memory team will have local history materials, including historical photos, maps, and oral history listening stations.
The Park Fair will also include rides, carnival food, musical performances, presentations by local dance & martial arts groups, games and arts and crafts vendors.
FREE admission.
The Forest Park Buddy Monument / Richmond Hill War Memorial is located at the Myrtle Avenue entrance to Forest Park's main thoroughfare, at the intersection of Park Lane South and Myrtle Ave. It is steps from the Q37 and Q55 buses.
****
WHAT CREATES HEALTH?
BRONX HEALTH JUSTICE SUMMIT
Saturday, Sept 24 & Monday, Sept 26
Hostos Community College, 500 Grand Concourse
Out of New York State's 62 counties, the Bronx ranked 62nd in the 2014 County Health Ranking Report. A neighborhood's health results from the historical, political, social, and physical forces that affect it. Certain NYC neighborhoods have been deprived of sufficient resources and attention, and the South Bronx bears the highest disease burden in NYC.
The Center for Health Equity seeks to address this disparity and eliminate health inequities.
The Center is planning a Summit that will include presentations, health resources, artistic interventions, and performances examining the question: "What creates health?"
In the summer of 2016 the Five Boro Story Project worked with the Center for Health Equity to hold story circle workshops that brought together Bronx community members, health care workers, and participants in the National Diabetes Prevention Program to share stories about the challenges we face with staying healthy. The stories that were shared create a fuller narrative of local health-related challenges, barriers, and resources, and how health might be improved on the neighborhood level.
As part of the "What Creates Health?" Summit, the Five Boro Story Project will present a program featuring true life stories of struggles and successes from selected participants in the National Diabetes Prevention Program, and songs from Bronx artists that explore themes of health, happiness, love, and wellness in the Bronx.
Details to come.
****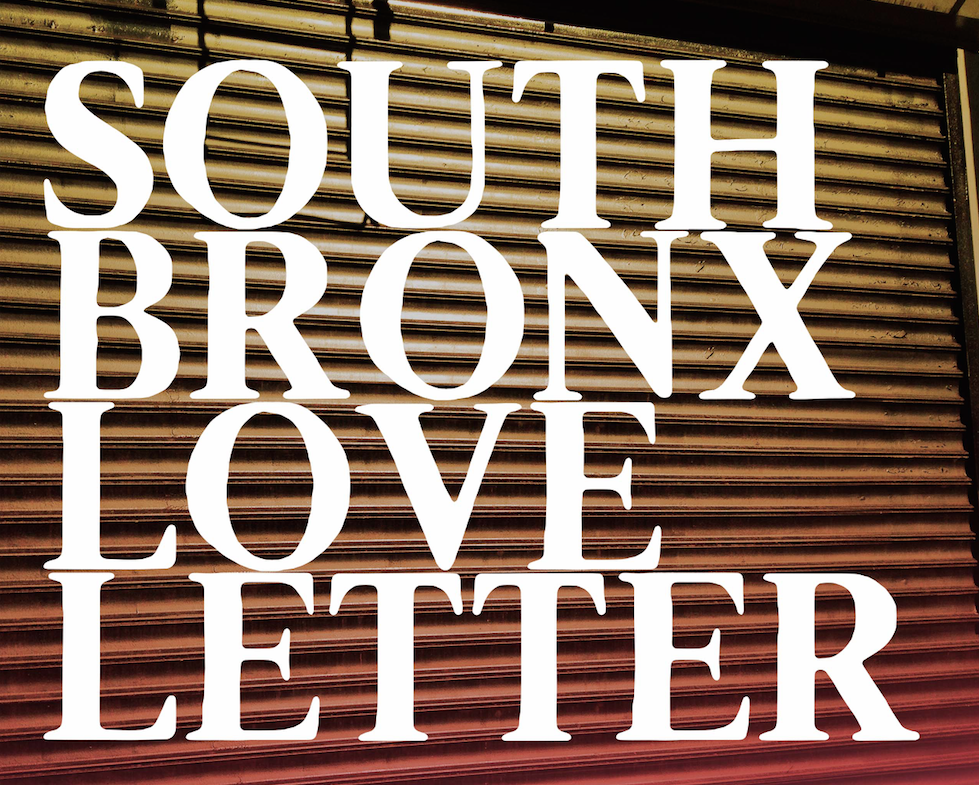 SOUTH BRONX LOVE LETTER
Friday, September 30 (Time TBD)
Willis Avenue Community Garden
Corner of Willis Ave & East 143rd Street
The second installment of "South Bronx Love Letter" will showcase community members and artists sharing their love for the South Bronx through true life stories, poetry and music.
Following the featured artists, express yourself in our open mic!
"South Bronx Love Letter" is a series of events and workshops that aim to strengthen connections between neighbors and affirm the stories of people who have been living in the South Bronx, working to make it a better place, and putting their love into it. We also aim to put forward an image of the South Bronx as defined by long-term residents, as a strong and positive counterpoint to the image of the "Piano District" being pushed by real estate developers.
Details to come.