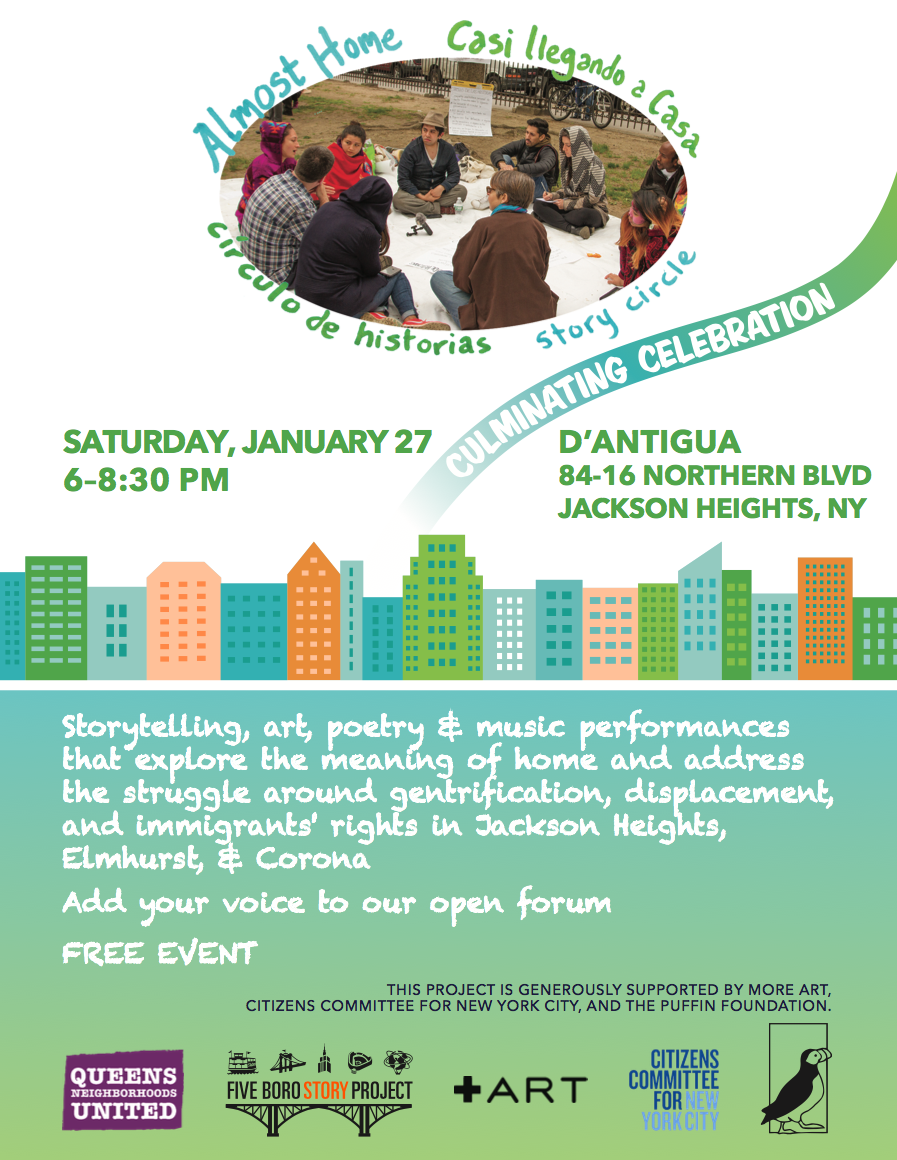 Almost Home / Casi Llegando a Casa Culminating Celebration
Saturday, January 27, 6:00-8:30pm
D'Antigua, 84-16 Northern Blvd, Jackson Heights
Almost Home/Casi Llegando a Casa is a storytelling, oral history, art, and video series in Jackson Heights, Elmhurst, and Corona that explores the meaning of "home" and addresses the struggle around gentrification, displacement, and immigrants' rights.
The Almost Home/Casi Llegando a Casa culminating celebration features interactive art, and storytelling, music, and poetry performances by notable Jackson Heights, Elmhurst, and Corona residents who will tell powerful stories about gentrification, displacement, immigration, activism and housing justice in our neighborhoods.
FREE EVENT
Featuring:
* Goussy Célestin – Haitian-American, Brooklyn-born, Jackson Heights-based "Renaissance Woman" who interchanges the roles of pianist, composer, vocalist, dancer, and arranger.
* Shekar Krishnan – community activist, tenant lawyer, and co-chair of Friends of Diversity Plaza who leads efforts to bring Jackson Heights neighbors together around this unique public space.
* Yessica Martinez – poet and teaching artist originally from Medellin, Colombia, who has lived in Corona since she migrated to the United States at age ten.
* Leticia Ochoa – activist with Queens Neighborhoods United and daughter of a street vendor on Roosevelt Avenue widely known as La Chola Cuencana.
* Esneider X – Colombian-born social movement activist, Queens food tour guide, and vocalist in punk band Huasipungo.
Following performances by featured artists, add your voice to our open mic!
Throughout the event experience a pop-up art "Fragile City" installation by Priscilla Stadler, live painting by Oscar Toro, and a "City of Stories" activity that invites you to collaboratively build a city by adding your own story to a paper building.
Almost Home/Casi Llegando a Casa Information:
Almost Home/Casi Llegando a Casa aims to strengthen community connections in Jackson Heights, Elmhurst, and Corona, Queens, through public storytelling programs, participatory art installations, and video that explore themes of home, vulnerability, resilience, and resistance. This project highlights powerful true stories of the challenges our communities face, and the struggles and inspiring victories that local organizers have won for housing justice and immigrants' human rights.
Almost Home/Casi Llegando a Casa was developed by Five Boro Story Project's Bridget Bartolini, Priscilla Stadler, and Milton X. Trujillo, in collaboration with Queens Neighborhoods United, a grassroots organization focusing on three social justice issues crucial for our local community: immigration, gentrification, and policing.
This project is generously supported by More Art, Citizens Committee for New York City, and the Puffin Foundation.
More information here.