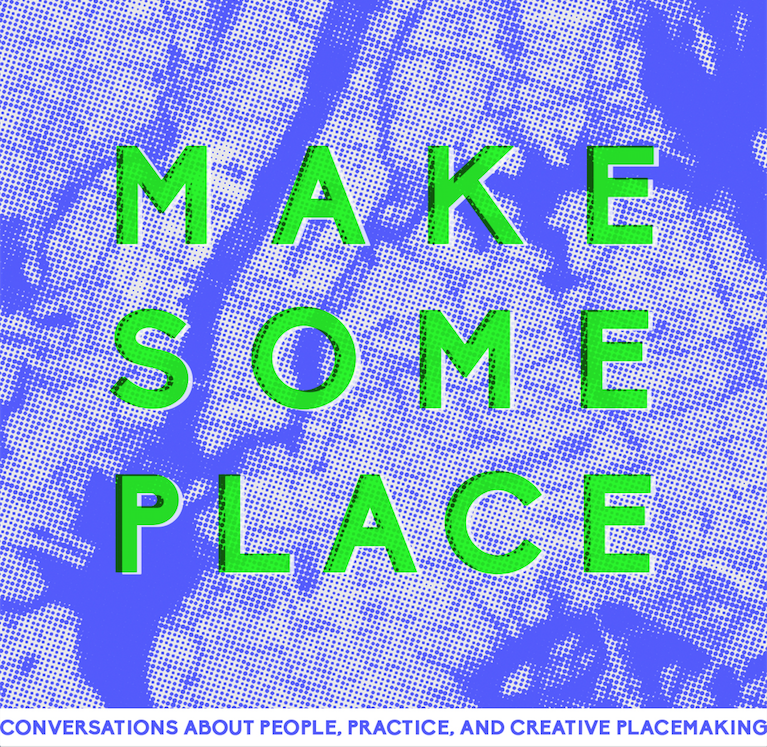 Make Some Place:
Partnerships
Wednesday, September 28, 6:00-8:30pm
CUE Art Foundation, 137 West 25th Street
Community partnerships and collaborations are key elements to the creative placemaking process. By combining resources, the process is inclusive of different viewpoints often leading to vibrant and more sustainable results. From local to international communities, discover how partners can enhance your practice.
This interactive conversation is facilitated by Bridget Bartolini (Creator, Five Boro Story Project) and Sunny Widman (Director, National Arts Strategies).
Make Some Place is a series of workshops from Sept 14th – Oct 12th that examine "creative placemaking" as it relates to artists and their practice. By shedding light on the abundance of resources and funding opportunities, the workshops are designed to empower artists as they find new ways of engaging communities by integrating arts and culture into community building initiatives.
The series features moderators, artists, scholars and social entrepreneurs. The audience is also invited to participate in the conversation during each session for a truly immersive experience. All workshops are free and open to the public.
RSVP here: http://bit.ly/2bMEmx1
****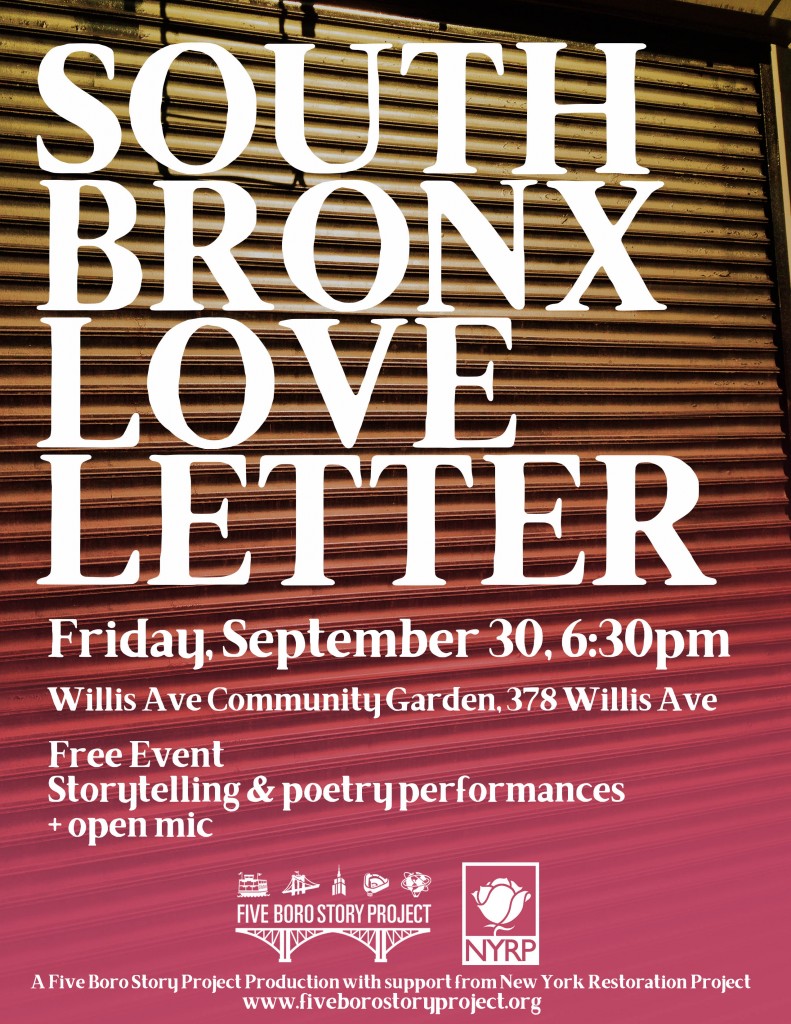 SOUTH BRONX LOVE LETTER
Friday, September 30, 6:30-8:30pm
Willis Avenue Community Garden
378 Willis Ave at the corner East 143rd Street
Celebrate the spirit and community of the South Bronx with storytelling and poetry performances, interactive art and an open mic!
The second installment of "South Bronx Love Letter" showcases community members sharing their love for the South Bronx through true life stories and art. Featuring:
* Edwin Pagán – native Bronx photographer, writer, filmmaker, and cinematographer, and a founding member of renowned photography collective Seis del Sur.
* Karen "Kay Love" Pedrosa – artist and activist from the South West Bronx who is beautifying her borough one mural at a time.
* Paula Ramirez – native Bronx poet, educator, and creator of the performance tale "SisHerHood" about love of sisters, love of self, and love of community.
* Bonafide Rojas – writer, poet, and musician who was born and raised on the Grand Concourse in the South Bronx, where he currently lives today.
Following the featured artists, express yourself in our open mic.
FREE EVENT
"South Bronx Love Letter" is a series of events and workshops that aim to strengthen connections between neighbors and affirm the stories of people who have been living in the South Bronx, working to make it a better place, and putting their love into it. We also aim to put forward an image of the South Bronx as defined by long-term residents, as a strong and positive counterpoint to the image of the "Piano District" being pushed by real estate developers.
The Willis Avenue Community Garden is located at 378 Willis Avenue in Mott Haven. It is near the 6 train to 3rd Ave-138th St and Brook Ave stations, the 2/5 trains to 3rd Ave/149th St, and the Bx15 bus.
"South Bronx Love Letter: Part 2″ is produced with support from the New York Restoration Project.
SAVE THE DATES FOR OCTOBER

Arts and Social Change Panel Discussion
Sunday, October 2, 12:30-1:30pm
Paradise Factory, 64 East 4th Street
Upstairs Theater
Artists discuss their commitment to making work that addresses pressing social issues and changes the way we perceive the world. While some artists use traditional forms of visual, literary, or performing arts to make work that comments on, responds to, or advocates for the need for change, others are exploring new art forms that engage communities and provide calls for action.
Panelists:
Bridget Bartolini
Jean Marie
Sameena Mustafa
Aneesh Sheth
Dedunu Sylvia
Moderated by Nikita Chaudhry
This talk is part of Tamasha: A Festival of South Asian Performing Arts, an annual celebration of the diverse perspectives, ideas, and imaginations of artists from the South Asian subcontinent and diaspora, happening Sept 26th-Oct 2nd.
****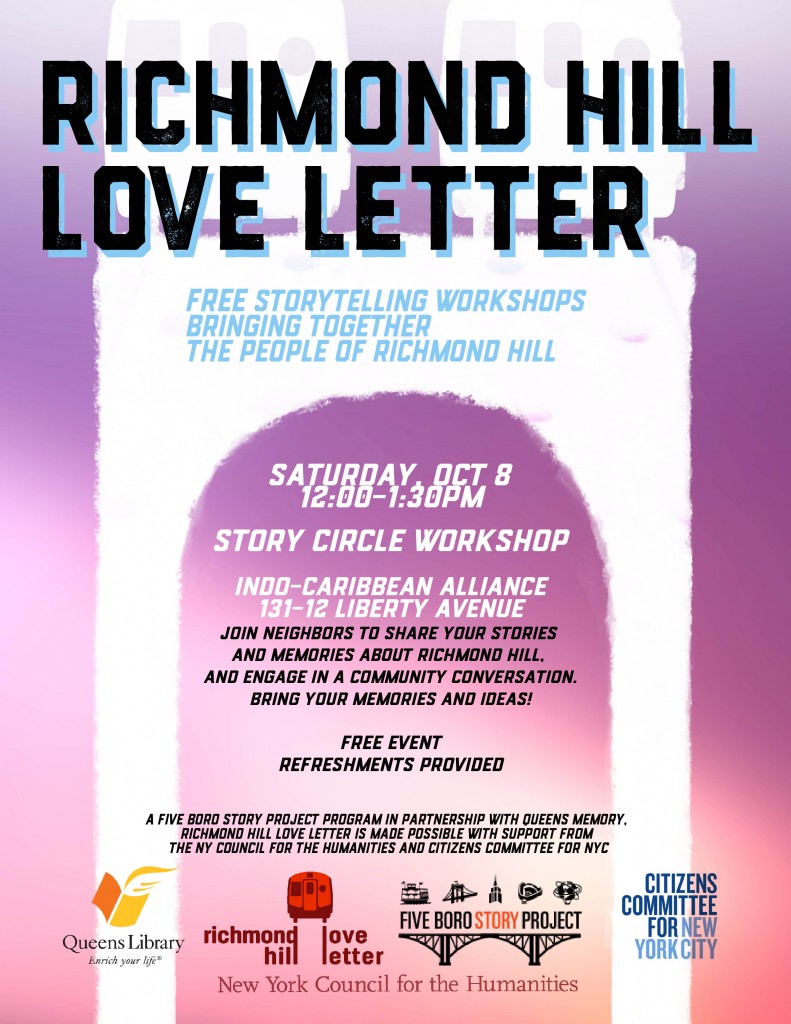 RICHMOND HILL LOVE LETTER
STORY CIRCLE WORKSHOP
Saturday, October 8, 12:00-1:30pm
Indo-Caribbean Alliance, 131-12 Liberty Avenue
Join neighbors in sharing stories and memories about Richmond Hill, and engage in discussion about our neighborhood's past, present, and future. Bring your memories and ideas, and expect to learn something new about our community. This workshop with the Indo-Caribbean Alliance will be an intimate and fun way to connect with neighbors through shared stories and snacks from Singh's Roti Shop, a local favorite in the heart of Little Guyana.
You are also invited to bring any Queens photographs and memorabilia, and Queens Memory will be on hand to digitize them for inclusion in the Archives at Queens Library's collections, and save them to a thumb drive that you can take home.
Participants will also have the chance to view archival treasures from the Queens Library Archive.
****
COMMUNITY CONVERSATIONS: OUR PARK STORIES
STORY CIRCLE WORKSHOP
Saturday, October 22, 2:00-4:00pm
Flushing Meadows Corona Park
How much is a day in the park worth to you?
Join a community conversation about Flushing Meadows Corona Park!
You are invited to share your experiences, memories, and hopes for the park, and join a discussion with Queens neighbors. This story circle workshop will help us better understand the value of Flushing Meadows Corona Park. Snacks will be provided.
This story circle is organized with the Queens Creative Solidarity's Studio in the Park Residency.