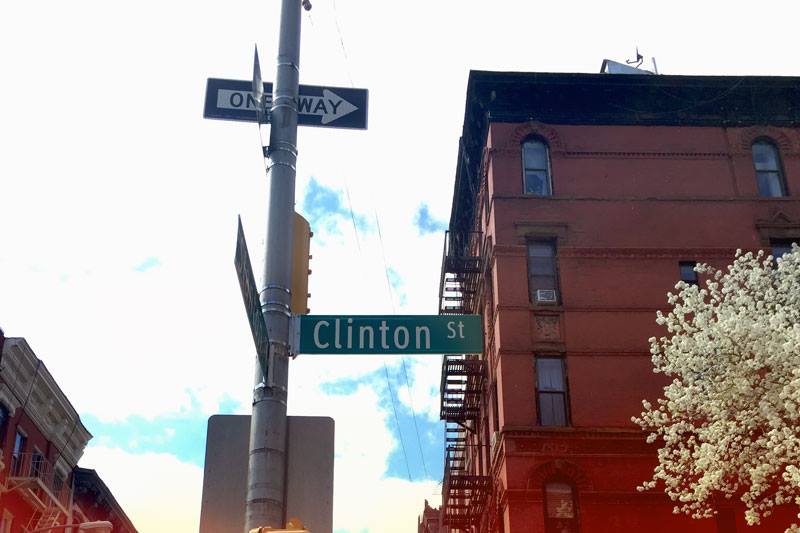 CLINTON STREET FEST
Friday, June 24, 4:00 – 7:00pm
Clinton Street btwn Houston & Delancey Streets
Experience the vibrant culture and commerce of Clinton Street, a diverse business corridor on the Lower East Side, with one-of-a-kind artist interventions, music, poetry, storytelling, performances, pop up shops, and more.
Free and open to the public, with interactive fun for all ages!
L.E.S. community members, Five Boro Story Project and artist Priscilla Stadler will transform the Clinton Community Garden (171 Stanton Street, on the corner of Clinton & Stanton) into a colorful City of Stories. Step into the garden, write down your memories, stories, and wishes for the Lower East Side, then explore the space, find the perfect spot to hang your story, and hunt for other stories throughout the garden!
Clinton Street Fest will feature discounts and tastings at select Clinton Street businesses, including Atlas Cafe, Black Crescent, Clinton St Baking Company, Cocoa Bar, East Village Wine & Liquor, and Kushboo Indian Restaurant, plus drink specials at Donnybrook NYC and Paloma Rocket.
This creative business attraction initiative is a collaborative effort between GOLES, ALBOR, FABNYC, and Anna Adler, with Featured Artists Bridget Bartolini, Kerry Cox, Raul K Rios, Priscilla Stadler, Erin Sweeney, Sally Young, dru kid + Friends.
Program
4pm: Intro & Welcome with Poetry by Raul Rios at Donnybrook NYC (35 Clinton St)
4:30 – 5pm: Walking Tour of participating sites and businesses w/ Enrique Cruz (ALBOR) & Anna Adler (starting at Donnybrook, 35 Clinton St)
4 – 6pm: "City of Stories" with Bridget Bartolini & Fragile City Installation by Priscilla Stadler at Clinton Community Garden (Northeast corner of Clinton & Stanton)
5pm: Cake Walk w/ Artist Erin Sweeny at Santo Domingo Bakery (93 Clinton St)
4 – 7pm: LES Slideshow by Sally Young (various locations)
4 – 7pm: Socrates Bueno: Performance and Video by Kerry Cox (86A Clinton St)
4 – 7pm: Music/Poetry Pop Up Shop with dru kid & Friends (86B Clinton St)
4 – 7pm: Shopping discounts, drink specials, and tastings at select businesses (see map below)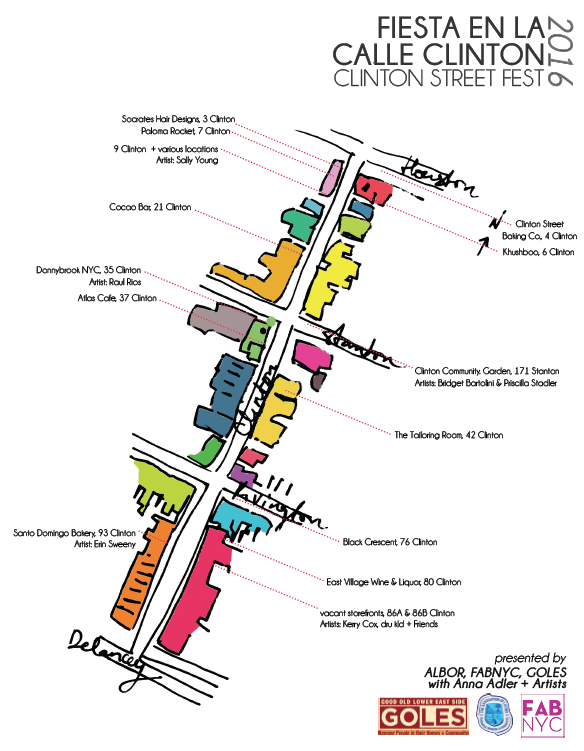 ****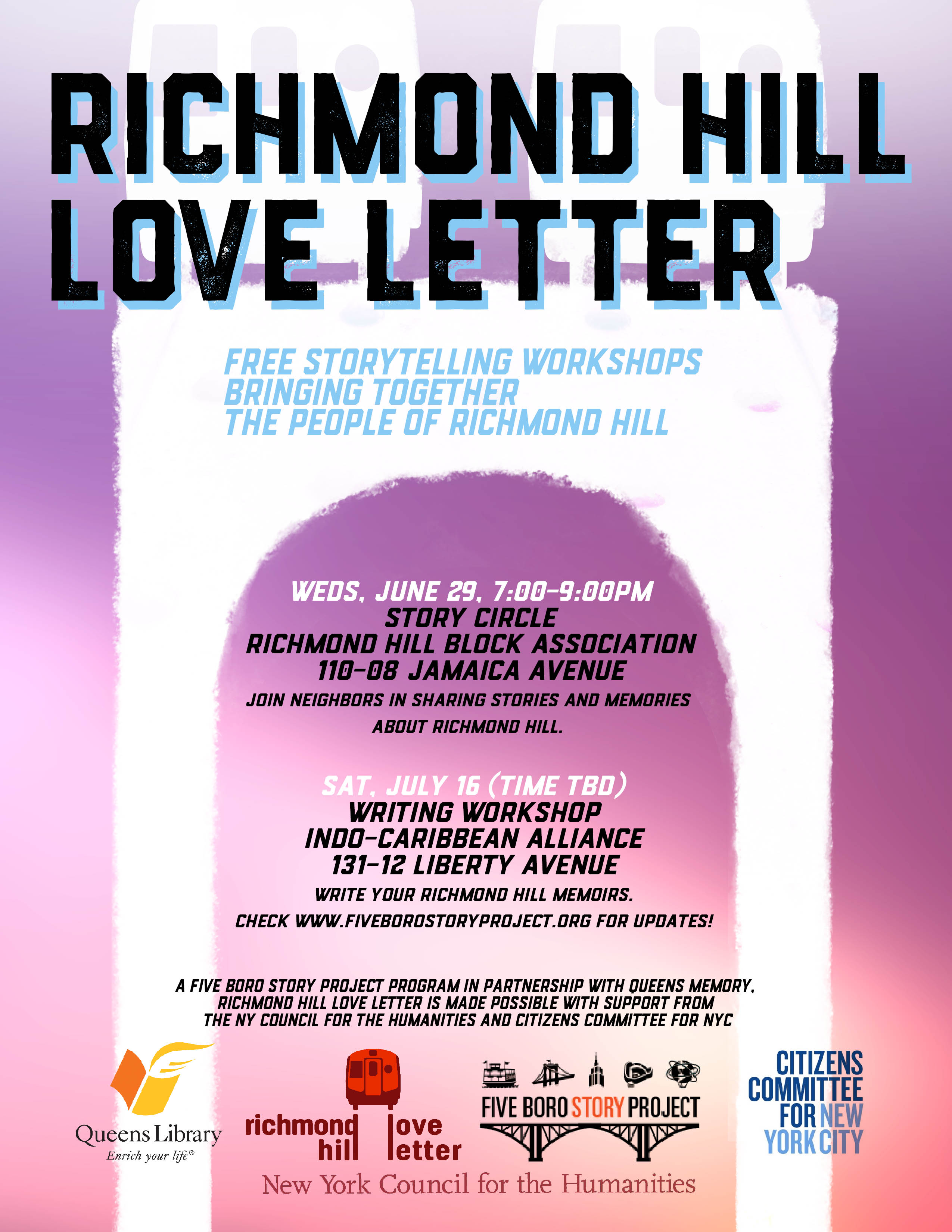 RICHMOND HILL LOVE LETTER STORY CIRCLE
Wednesday, June 29, 7:00-9:00pm
Richmond Hill Block Association, 110-08 Jamaica Avenue
Join neighbors in sharing stories and memories about Richmond Hill, and engage in discussion about our neighborhood's past, present, and future. This story circle workshop will be an intimate and fun way to connect with neighbors through shared stories and snacks. Bring your memories and ideas, and expect to learn something new about our community.
You are also invited to bring any Queens photographs and memorabilia, and the Queens Memory team will be on hand to digitize them for inclusion in the Archives at Queens Library's collections, and save them to a thumb drive that you can take home.
FREE WORKSHOP
Richmond Hill Block Association is located at 110-08 Jamaica Avenue between 110th and 11th Streets, and is steps from the J train at 11th St, and the Q37 bus.
RICHMOND HILL LOVE LETTER WRITING WORKSHOP
Saturday, July 16 (Time TBA)
Indo-Caribbean Alliance, 131-12 Liberty Avenue
What are the details that make up your Richmond Hill? Join our writing workshop and write about your experiences in the neighborhood. Your writing may be featured in the Richmond Hill Love Letter culminating event in November!
FREE WORKSHOP
More details to come!
Indo-Caribbean Alliance is located at 131-12 Liberty Avenue between 131st and 132nd St. It is accessible by the Q112, Q8, and Q41 buses.
ADDITIONAL "RICHMOND HILL LOVE LETTER" PROGRAMS & DATES TO BE ANNOUNCED.
STAY TUNED!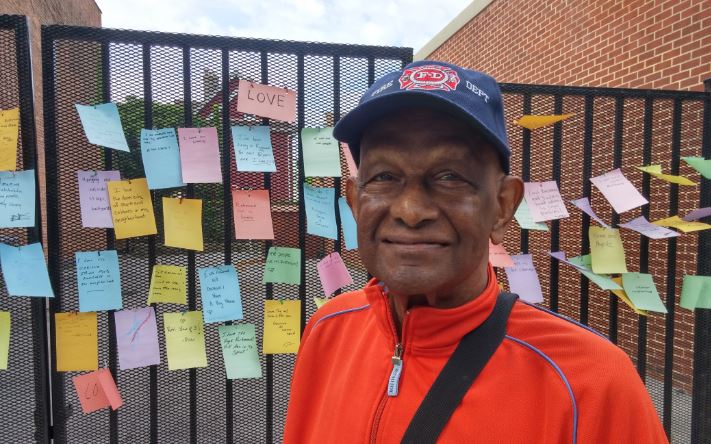 Richmond Hill Love Letter is a storytelling, art, and oral history program aiming to strengthen community by highlighting all there is to love about the neighborhood of Richmond Hill, Queens. This program is a collaboration with Queens Memory, made possible with the support of the New York Council for the Humanities and Citizens Committee for New York City. Find out more HERE.
****
LA ISLA BONITA
Sunday, July 10, 3:00-8:00pm
Faber Park, 2200 Richmond Terrace
A cultural happening on Staten Island with art, music, pool, skate, parks, and more!
Live musical performances include NYC tropical circus punk band Consumata, global bass vocalista from Los Angeles with Filipina roots Gingee, and Staten Island's female-fronted philosophical dream punk band Yeti. Staten Island-via-Bermuda's Dizzle gives us eclectic electric Island vibes plus surprises!
Faber Park will be open for picnic baskets & blankets, chairs, as well as activities including zine-making by NYC-based La Liga Zine and a special "Make a Rhyme Book" station by local emcee Nani Castle, who won a grant from Staten Island Arts to promote youth self-expression through rhyme books. NYSAI Press and Five Boro Story Project will host a story-circle and community open mic.
More activities to be announced!
FREE EVENT
"La Isla Bonita" was born as a public art series developed by Colombian-born, Staten Island-based artist Lina Montoya under her LMProject. Last Summer, LMProject and local events collective ISLA partnered up to create a summer festival in the North Shore of Staten Island with the help of the New York City Department of Parks and Recreation, Partnerships for Parks and California organization Sol Collective – naming it La Isla Bonita Summer Festival.
With the goal of building a yearly cultural happening which celebrates Staten Island's vibrance, La Isla Bonita highlights Faber Park's beautiful waterfront park while promoting local and global arts & culture for free to the community.