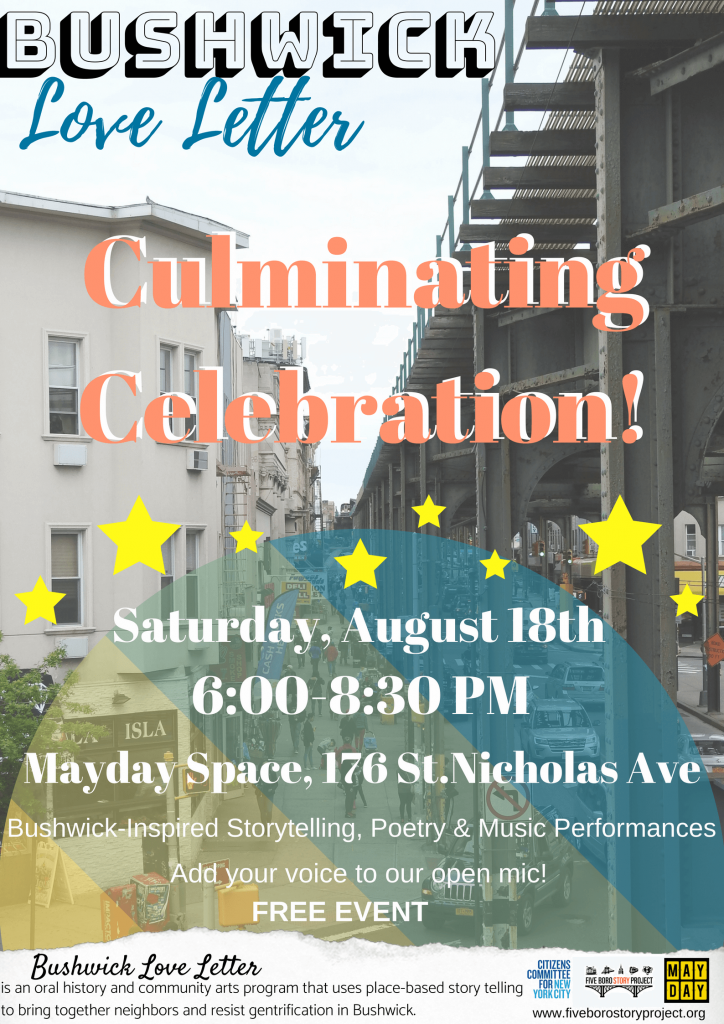 "Bushwick Love Letter" Culminating Celebration
Saturday, August 18, 6:00-8:30pm
Mayday Space, 176 St Nicholas Ave
Performances + Open Mic
The culminating celebration of our "Bushwick Love Letter" series will feature performances of true life stories, songs, and poems inspired by Bushwick.
Add your voice to our open mic, meet neighbors, share your love and concerns for Bushwick at our "Bushwick Love Letter" station, and plug into local activism around gentrification, housing, and zoning.
Featuring:
Ani Cordero – passionate and renowned Puerto Rican singer, songwriter, multi-instrumentalist, and activist living in Bushwick
Darren Mack – social and criminal justice reform advocate, activist, and organizer born and raised in "The Old Bushwick"
Jose Morales – Bushwick-born Nuyorican with a special distaste for gentrification and displacement
Gladys Puglla – volunteer tenant organizer with Make the Road NY who is motivated by her own experiences of harassment by landlords
Pati Rodriguez – Bushwick-raised community organizer, guerrilla radio host, and founder of Mi Casa No Es Su Casa, a political artivist project resisting gentrification and displacement
FREE EVENT
"Bushwick Love Letter" is an oral history and community art program that uses place-based storytelling to bring together neighbors and resist gentrification in Bushwick during summer 2018. By gathering stories and organizing performances that spotlight the long-time community's love and concerns for the neighborhood, "Bushwick Love Letter" aims to strengthen connections between neighbors, resist erosion of local history and culture, and support local organizing efforts around gentrification, displacement, tenant protections, and housing activism. Learn more HERE.
DIRECTIONS
Mayday Space is located at 176 St Nicholas Avenue in Bushwick, a short walk from Dekalb Ave on the L train.
***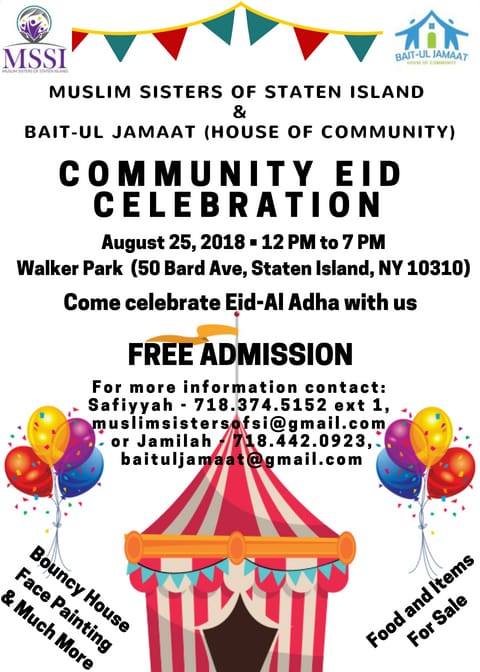 "Staten Island Love Letter" at Muslim Sisters of Staten Island's Community Eid Celebration
Saturday, August 25, 1:00-7:00pm
Waller Park, 50 Bard Avenue
Muslim Sisters of Staten Island and Baitul Jamaat have teamed up to host an Eid ul Adha Celebration for the community. There will be free games and activities for all, delicious food and drinks for sale, along with a mini-bazaar with a variety of items for you to choose from.
Throughout the festival our Staten Island Love Letter station will provide a space to express your love, pride, concerns and hopes for Staten Island and add it to a borough map.
FREE ADMISSION