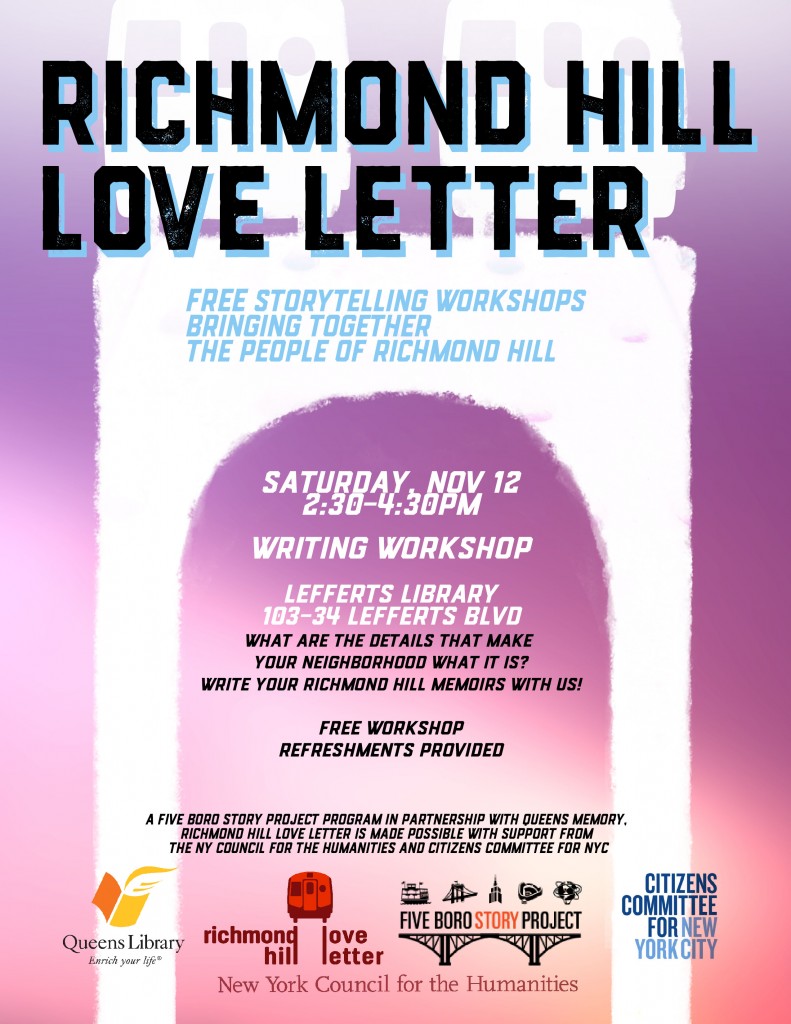 RICHMOND HILL LOVE LETTER
WRITING WORKSHOP
Saturday, November 12, 2:30-4:30pm
Lefferts Library, 103-34 Lefferts Blvd
What are the details that make your neighborhood what it is? Join our writing workshop and write about your life experiences in Richmond Hill and other neighborhoods that you've called home. This workshop is facilitated by Nadia Misir, writer and Richmond Hill native and former fellow with the Asian American Writer's Workshop.
Your writing could be featured in the Richmond Hill Love Letter culminating event in December!
You are also invited to bring any Queens photographs and memorabilia, and Queens Memory will be on hand to digitize them for inclusion in the Archives at Queens Library's collections, and save them to a thumb drive that you can take home.
Participants will also have the chance to view archival treasures from the Queens Library Archive.
Free workshop with refreshments provided.
The Lefferts Library is steps from Lefferts Blvd station on the A train, and Lefferts Blvd/ Liberty Ave on the Q10, Q112, and QM18 buses.
STAY TUNED FOR INFORMATION ABOUT THE FINAL "RICHMOND HILL LOVE LETTER" CELEBRATION IN DECEMBER.