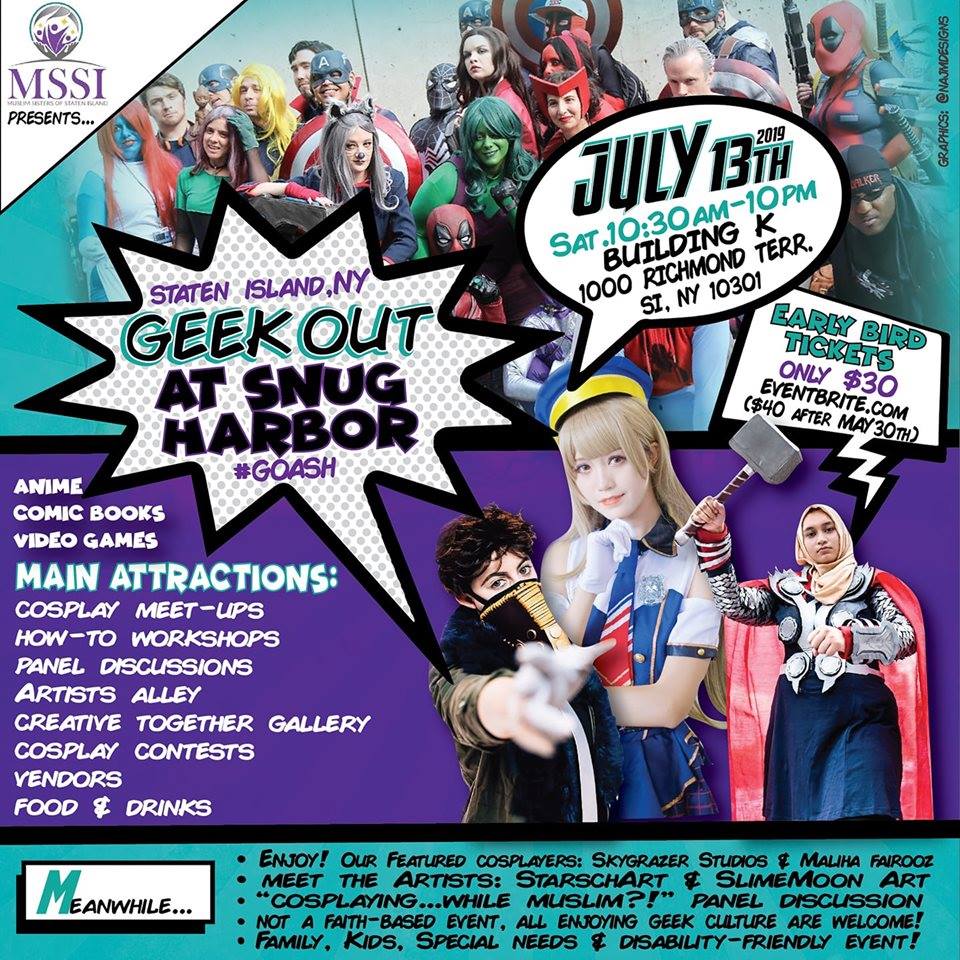 "Staten Island Love Letter" at Geek Out At Snug Harbor
Saturday, July 13, 10:30am-10:00pm
Snug Harbor, Building K, 1000 Richmond Terrace
Muslim Sisters of Staten Island decided that it's time Staten Island had their own convention! Geek Out At Snug Harbor brings anime, comic books, video games and all things involving geek culture to the Staten Island community, creating a unique outlook and dialogue on geek culture from diverse perspectives. The goal is to bridge gaps in the community and take Staten Island's image from the forgotten borough to the unforgettable borough.
This event will have panels, workshops, cosplay meet-ups, performances, activities for children, Artist Alley, Gallery, contests, giveaways and so much more!
Get your tickets at https://bit.ly/GOASH19.
Set in the beautiful Snug Harbor Cultural Center & Botanical Garden, this event is open to all.
For directions Click Here.
****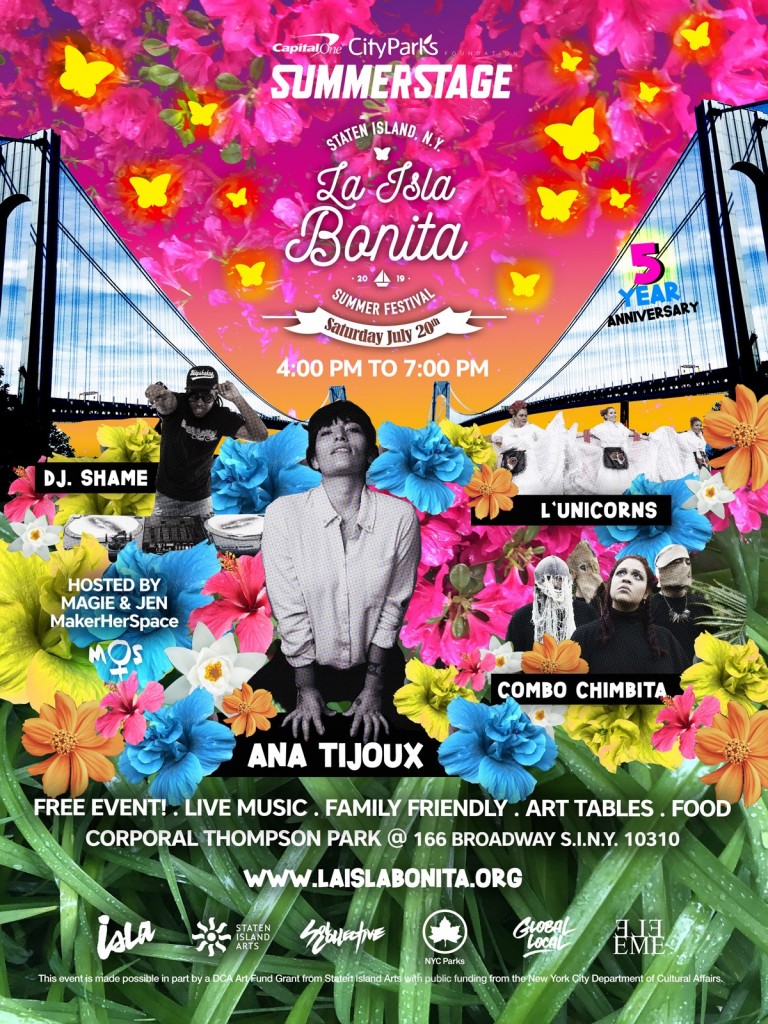 "Staten Island Love Letter" at La Isla Bonita Summer Festival
Saturday, July 20, 4:00-7:00pm
Corporal Thompson Park, Broadway Ave & Henderson Ave
La Isla Bonita Summer Festival is celebrating its 5th Anniversary on July 20th!
La Isla Bonita Festival is a women of color-led people's arts festival founded in 2015 by Lina Montoya and Nati Conrazon, who dreamed of a space full of love and good vibes, of finding inspiration while inspiring others, and celebrating that local is global on Staten Island! Programming for the festival is intentionally chosen to reflect global and local sounds, with bands and DJs who are honoring traditional musics while modernizing their sound for new audiences.
In association with SummerStage, this special concert features:
* Anita Tijoux, a French-Chilean pop singer and rapper with a long history of championing social justice and nonviolence. She first started rapping and dancing at 11 years old, and did stints in the groups Los Tetas and Makiza before setting off on her own in 2006 with the single "Ya No Fue." In 2009 she embraced hip-hop with her Grammy-nominated breakout LP 1977.
*Combo Chimbita, a New York-by-way-of-Colombia troupe that fuses the perennial rhythms of the Afro-Latinx diaspora with a modern-day consciousness, while tracing the prophetic traditions of our ancestry.
*L'unicorns, the first LGBTQ+ Latinx folkloric dance troupe based on Staten Island.
*DJ SHAME, a turntabalist and DJ born and raised on Staten Island.
Throughout the festival the Five Boro Story Project's Staten Island Love Letter station will provide a space to express your love, pride, concerns and hopes for Staten Island and add it to a borough map.
FREE ADMISSION
DIRECTIONS: Corporal Thompson Park is bordered by Broadway Ave, Henderson Ave, and Chapell Street, and is accessible by the S46, S96, S40, and S44 buses.
****
Reclaiming the Hall:
Amplifying Community Voices at the Hall of Fame
Saturday, September 21
Bronx Community College, 2155 University Avenue
A day-long public art & community event with a related exhibit in the Bronx Community College Hall of Fame Gallery.
The event will feature several performances and exhibits installed in BCC's Hall of Fame for Great Americans. The exhibits will express the artists' perspective of inclusion, diversity, and bias in defining Great Americans through their genre of choice: art, music, dance, spoken work, media and performance.
More details to come!
The idea behind "Reclaiming the Hall"
Statues removed, buildings renamed, famous names recast as ignominious – these recent actions have presented us with opportunity. We are at a critical juncture. In these ever more divisive times, we need to acknowledge erasures and call for more inclusivity in how we commemorate as we seek out ways to be more culturally responsive to our communities. The present climate opens up spaces for alternative narratives and brings us new perspectives on our past.
Bronx Community College's Hall of Fame for Great Americans in the Bronx is the first hall of fame ever established in the United States. It includes authors, educators, architects, inventors, military leaders, judges, theologians, philanthropists, humanitarians, scientists, statesmen, artists, musicians, actors, and explorers. For years, there have been various attempts by historians, faculty, students, and the Archives at the Bronx Community College campus to re-envision the historic Hall of Fame so that it may resonate with its surroundings. Reflecting on last year's Unite the Right rally, the tragic public protest in response to the removal of the Robert E. Lee statue in Charlottesville, VA, and BCC's removal of their own Lee and Stonewall Jackson busts at the Hall of Fame, there is a greater urgency for us to pause at the tensions in American life that have been left unaddressed.
****
Be sure to check our YouTube for more stories, and stay tuned for announcements about more events coming up this summer!