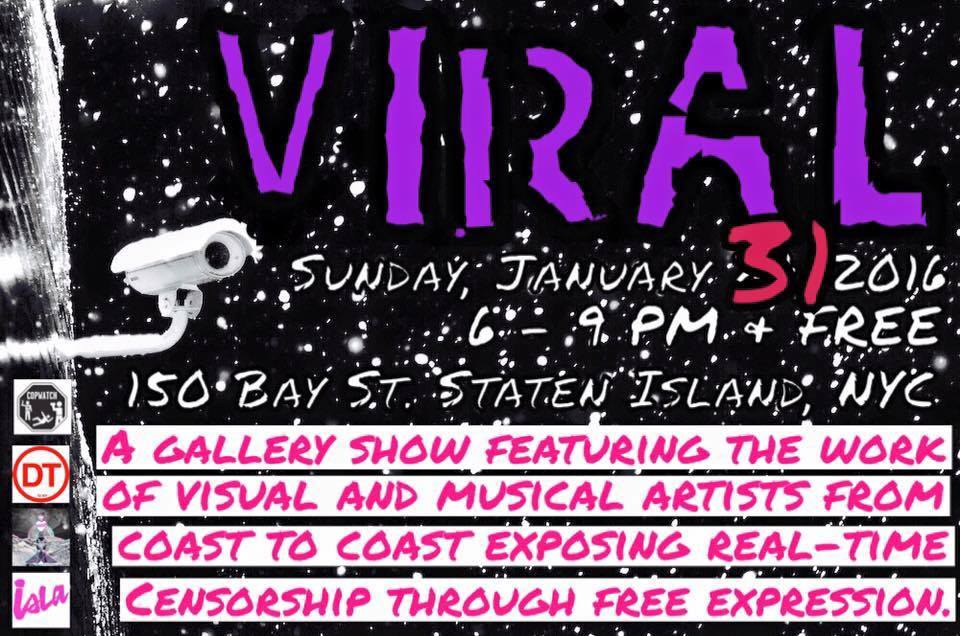 VIRAL
Sunday, January 31, 6:00-9:00pm
Deep Tanks Studio, 150 Bay St
VIRAL is a gallery show featuring the work of visual and musical artists from Coast to Coast exposing real-time censorship. The event will feature photography and visual art, and poetry and music performances, with one simple question in mind: "Can Love Go Viral?"
Share your love for your neighborhood at our "Staten Island Love Letter" interactive station. Jot down your thoughts and add them to a map representing our New York City story.
* Hosted by Gia Dupree
* Poetry performances by Thomas Fucaloro (Staten Island), Eric Alter (Staten Island), The Peace Poets (Bronx) and more
* Acoustic performances by Nenjah Nycist (Brooklyn), Nani Castle (Staten Island), Ty Black (Brooklyn), Jam No Peanut (Manhattan), J Skills (Staten Island) and more
* Music by DJ Dizzle.
Performances start at 7:30pm.
FREE EVENT!
Selected artworks will be for sale, and proceeds will be donated to Ramsey Orta.
The show is curated by Staten Island native Nati Conrazon of local arts & programming collective ISLA. Read "Can Love Go as 'Viral' as the Eric Garner Video?" to find out more about Nati and the program!
Deep Tanks Studio is about a ten-minute walk from the ferry. Directions HERE.
View photos from VIRAL

HERE

and portraits of attendees

HERE

.