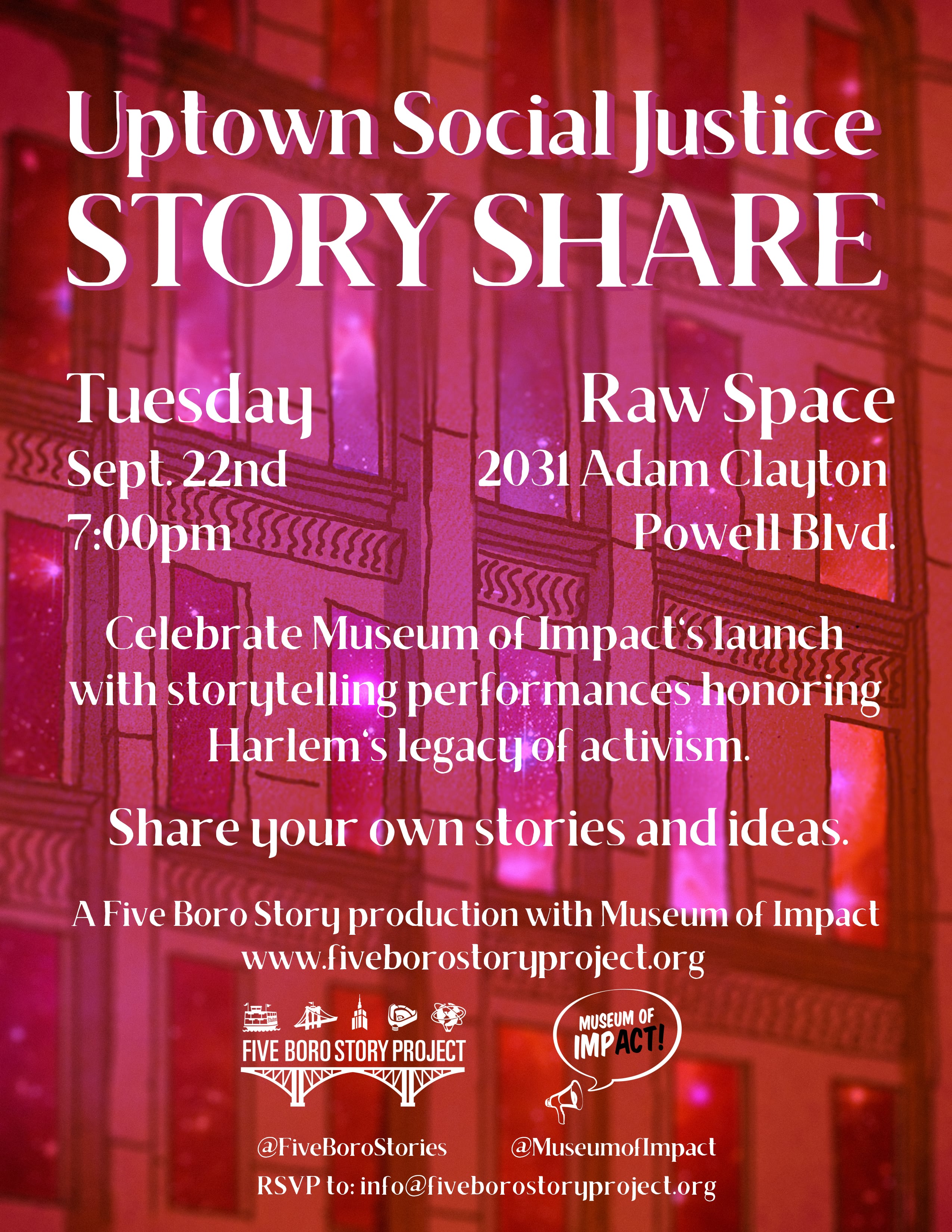 Uptown Social Justice Story Share
Tuesday, Sept 22nd, 7:00-9:30pm
Museum of Impact at Raw Space,
2031 Adam Clayton Powell Blvd btwn W 121st & 122nd St
Honor Harlem's continuing legacy of activism and swap tales with neighbors at "Uptown Social Justice Story Share." This community storytelling event features true stories that are both uplifting and deeply grounded in place, exploring how social justice efforts can be strengthened in our tumultuous times.
Featuring stories from:
* Petrushka Bazin Larsen, artist, educator and curator who is passionate about the power of the arts to be a catalyst for change
* Tamika Mallory, nationally recognized organizer, strategist, social justice activist, and next-generation champion of the civil rights movement
* Andrew J. Padilla, filmmaker, educator, and anti-displacement advocate who created the documentary "El Barrio Tours: Gentrification in East Harlem"
* Nayantara Sen, first generation Bengali immigrant, activist, fiction writer, social and racial justice educator and trilingual storyteller
* Julien A. Terrell, community organizer with Brotherhood/Sister Sol who is dedicated to fostering youth leadership and environmental justice
* Plus a special performance of songs inspired by the Harlem Renaissance and Black Lives matter by hip hop artist James "SoSoon" Gantt
Share your own stories and ideas in a participatory story circle!
"Uptown Social Justice Story Share" celebrates Museum of Impact's debut in Harlem. The world's first mobile social justice museum, Museum Of Impact is launching on September 20th, and will be open at Raw Space through September 24th with their inaugural exhibit, ‪"Movement Is Rising‬: The Journey of Black Lives Matter‬."
Refreshments generously provided by Accra Restaurant and Harlem Besame.
This event has a suggested donation of $5 to support Museum of Impact's community programming. No one will be turned away for lack of funds.
Watch "Uptown Social Justice" highlights:
View "Uptown Social Justice" photos

HERE

.