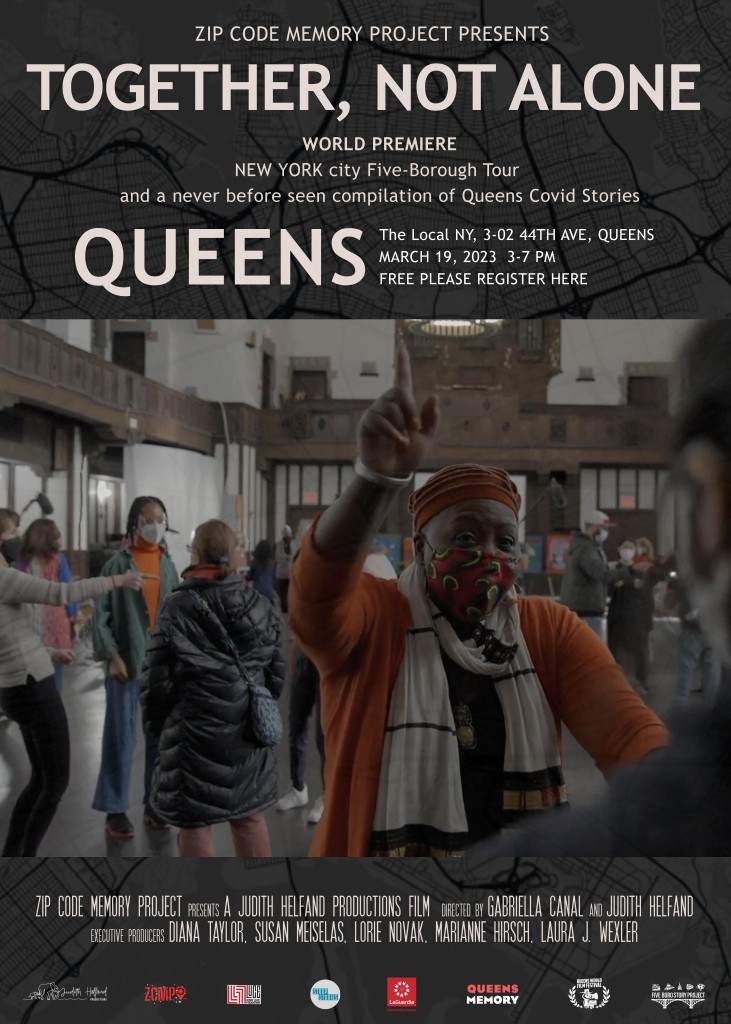 Together, Not Alone Screening & Celebration
The Local NY, 13-02 44th Avenue, Queens
Sunday, March 19, 3:30-7:30pm
Zip Code Memory Project's film Together, Not Alone is on a five-borough tour!
This short documentary follows a group of strangers from across three New York City neighborhoods—different ages, races, socio-economic backgrounds, work and life experience–who come together after months of Covid-19 isolation to explore, map, paint, shape, recall and bear witness to each others' zip code-determined struggles and imagine justice and repair.
Join us for this free film screening and discussion at The Local to mark the third anniversary of New York City's pandemic lockdown of 2020. The event will open with refreshments from Queensboro Restaurant, who mobilized their resources to feed our first responders at Elmhurst Hospital Center as they became the epicenter of the epicenter. The repast will be accompanied by interactive participation in memory mapping, conversation, and activities designed to bring us together around our shared and lived experiences.
We will honor and explore the role of citizens and community-based cultural organizations who responded quickly to create a record of life in Queens during an extraordinary moment in history. Let's celebrate how we all stretched, grew and transformed, virtually and literally, to meet the needs of Queens, the borough where we live, love, work, and serve.
SCHEDULE
3:30 PM – Light refreshments and interactive memory-based art projects
5:30 PM – Screenings and Q&A
7:00 PM – Socializing & Networking
Partners include A-Doc (Asian American Documentary Network), Five Boro Story Project, LaGuardia and Wagner Archives at LaGuardia Community College/CUNY, Queens Memory Project, Queens World Film Festival, and Stoop Stories.
Please register here.