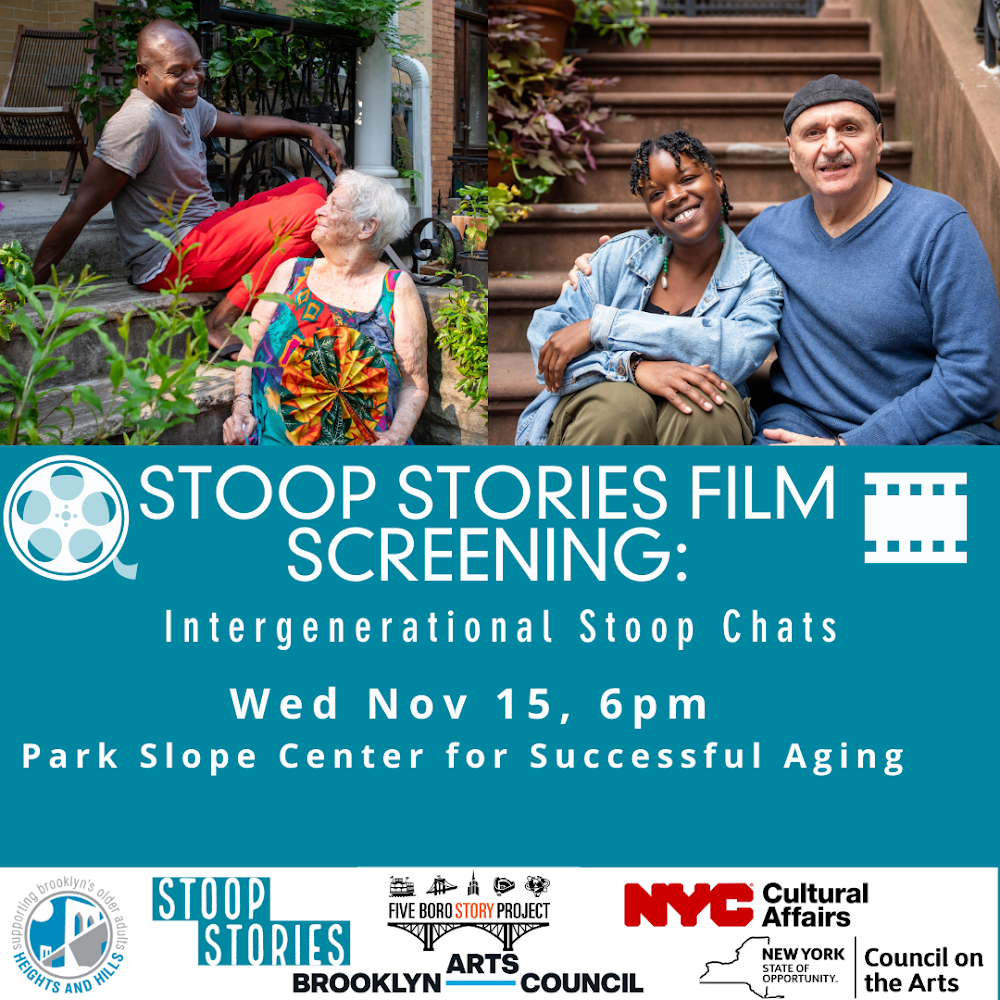 Stoop Stories Film Screening: Intergenerational Stoop Chats
Wednesday, November 15, 6:00-8:00pm
Park Slope Center for Successful Aging, 463A 7th St, Brooklyn, NY
Celebrate Brooklyn's stoop culture with us!
Join us for the premiere of two documentary shorts, a community discussion, and live music and poetry perforamnces.
Last summer we partnered with Stoop Stories to produce intergenerational storytelling workshops in Park Slope. On November 15th, Stoop Stories will premiere two short pieces from their new intergenerational film series, featuring participants from the workshops. Following the screening, we'll have a Q&A with the filmmakers and subjects.
Featuring music from Jimmy Palmaro, and poetry from Robert Anthony Gibbons, Jimmy Palmaro, and Shanaya Perkins.
FREE EVENT
Please register HERE.
Heights & Hills Park Slope Center for Successful Aging is located at 463A 7th Street, just off 7th Avenue. Use the side entrance to All Saints' Episcopal Church.
The Stoop Stories Intergenerational Film Pilot is made possible by public funds from the Greater New York Arts Development Fund of the New York City Department of Cultural Affairs, the Statewide Community Regrants Program, as well as from a regrant program of the New York State Council on the Arts with the support of the New York State Legislature, both administered by Brooklyn Arts Council. The "Flatbush Friends" film is funded by the Stoop Stories community.