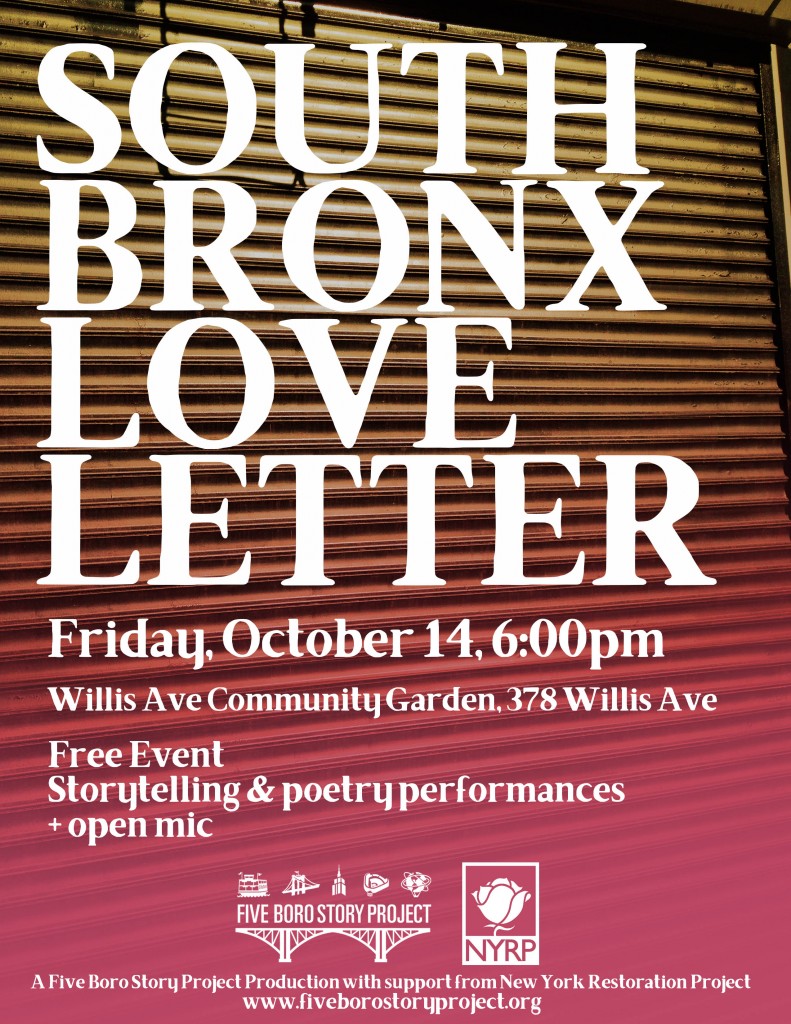 SOUTH BRONX LOVE LETTER
Friday, October 14, 6:00-8:30pm
Willis Avenue Community Garden,
378 Willis Ave at the corner East 143rd Street
Celebrate the spirit and community of the South Bronx with storytelling and poetry performances, interactive art, and an open mic!
The second installment of "South Bronx Love Letter" showcases community members sharing their love for the South Bronx through true life stories and poems. Featuring:
* Edwin Pagán, a native Bronx photographer, writer, filmmaker, and cinematographer, and a founding member of renowned photography collective Seis del Sur.
* Karen "Kay Love" Pedrosa, an artist and activist from the South West Bronx who created #whatpianodistrict and is beautifying her borough one mural at a time.
* Paula Ramirez, a native Bronx poet, educator, and creator of the performance tale "SisHerHood" about love of sisters, love of self, and love of community.
* Bonafide Rojas, a writer, poet, and musician who was born and raised on the Grand Concourse in the South Bronx, where he currently lives today.
Following the featured artists, express yourself in our open mic.
Doors at 6:00, Performances at 6:30pm.
FREE EVENT
"South Bronx Love Letter" is a series of events and workshops that aim to strengthen connections between neighbors and affirm the stories of people who have been living in the South Bronx, working to make it a better place, and putting their love into it. We also aim to put forward an image of the South Bronx as defined by long-term residents, as a strong and positive counterpoint to the image of the "Piano District" being pushed by real estate developers.
The Willis Avenue Community Garden is located at 378 Willis Avenue in Mott Haven. It is near the 6 train to 3rd Ave-138th St and Brook Ave, the 2/5 trains to 3rd Ave/149th St, and the Bx15 bus.
"South Bronx Love Letter: Part 2″ is produced with support from the New York Restoration Project.
View photos from "South Bronx Love Letter – Part 2″

HERE

.
Watch "South Bronx Love Letter – Part 2″ highlights: