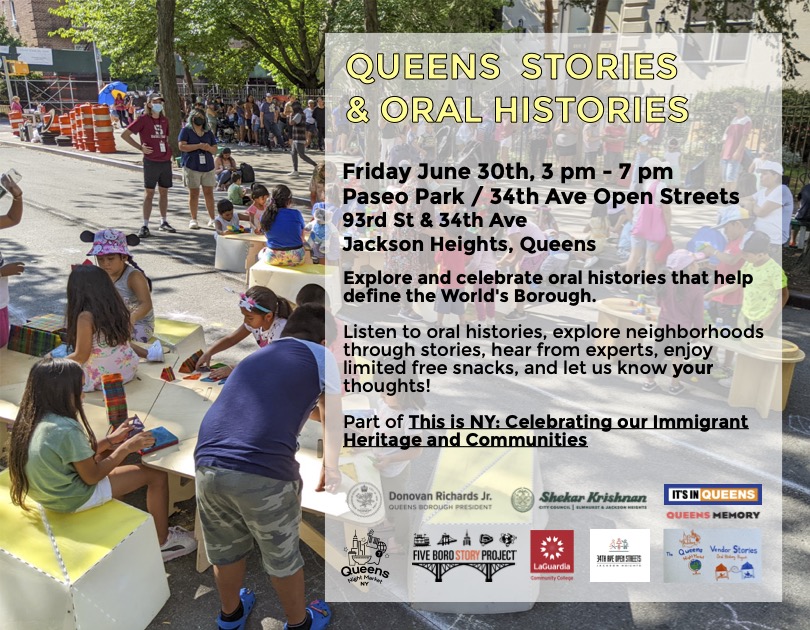 Queens Stories & Oral Histories Exhibit
34th Avenue btwn 93rd-94th St, Jackson Heights, Queens
Friday, June 30, 3:00-7:00pm
Celebrate immigrant stories that help define the World's Borough, Queens!
In this outdoor exhibit on the 34th Avenue Open Street, listen to oral histories, explore Queens neighborhoods through stories, hear from experts, enjoy limited free snacks, and let us know your thoughts!
Exhibitions include:
* 34th Avenue Oral History by Bridget Bartolini
* Queens Night Market Vendor Stories Oral History Project by Storm Garner
* COVID-19 Asian American Oral History Project from LaGuardia Community College
* Queens Memory exhibit from the Queens Library
* "People of Queens" photo exhibit by Rob MacKay and Queens Tourism Council
FREE EVENT
Queens Stories is part of This Is NY: Celebrating Our Immigrant Heritage and Communities.