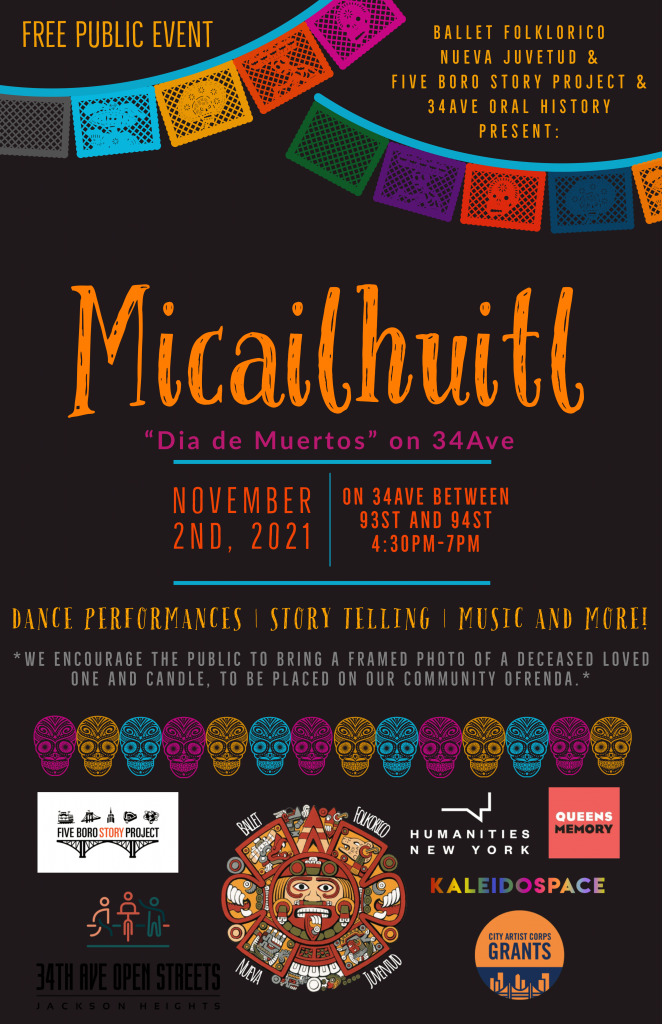 Micailhuitl: Día de Muertos on 34th Ave
Tuesday, November 2, 4:30 – 7:00pm
34th Avenue between 93rd & 94th Street, Jackson Heights
Join us for an afternoon filled with dance, music, and storytelling performances on the 34th Avenue Open Street.
'Micailhuitl' translates to 'Día de Muertos' (Day of the Dead) in Nahuatl, one of Mexico's many indigenous languages. In a tradition celebrated all throughout Mexico, from midnight on October 31st through November 2nd, the spirits of our deceased loved ones crossover the spiritual world into the living world to rejoin their family and friends for a time of remembrance and festivity. For their honored guests, the living families make an ofrenda (altar), decorated with colorful papel picado, pan de muerto, cempasuchiles (marigolds), sugar skulls, incense and things that the deceased enjoyed during their time living.
For Micailhuit, we'll set up a community ofrenda and art installation on 34th Avenue. We encourage the public to bring framed photos of deceased loved ones and white candles for the ofrenda, and to paint your faces as either a sugar skull or regular skull!
Performances by:
Manuela Agudelo – Colombian-born, Queens-raised dancer, choreographer, model, rollerskater, activist, and cultural producer
Kacia Flórez – Queens-born artist and singer with a sincere love for her Andean roots
Erick Modesto – dancer, pastry chef, and Director of Ballet Folklorico Nueva Juventud, a group that preserves Mexico's culture and traditions through dance
Valentina Ortiz – storyteller, musician, and writer who speaks the stories of ancient and modern Mexico.
And an art installation by:
Mark Saldana – Queer Mexican multimedia artist whose work is influenced & inspired by his Mexican cultural background
Micailhuitl is a free community event, and will be outdoors on the 34th Avenue Open Street between 93rd-94th Street (in front of P.S. 149/Christa McAuliffe School). Please dress warmly, and feel free to bring folding chairs or something comfortable to sit on.
This event is part of the 34th Avenue Oral History project and is supported by a Public Humanities Grant from Humanities New York and the Humanities in Practice Initiative of the Society of Fellows/Heyman Center for the Humanities at Columbia University.
FREE EVENT
View photos from Micailhuitl: Día de Muertos on 34th Ave

HERE

.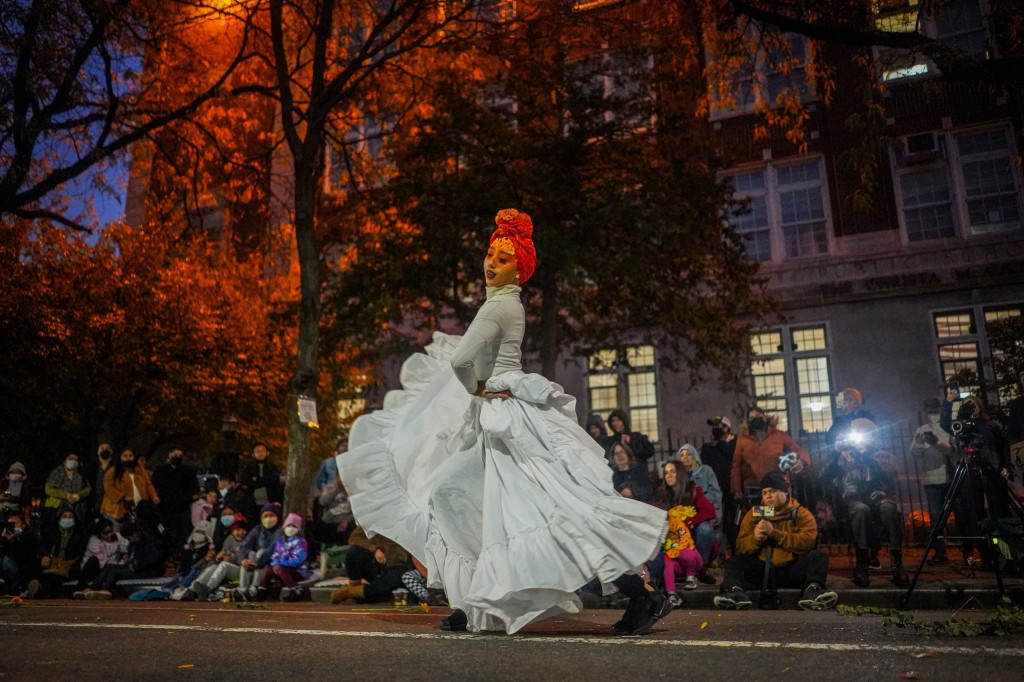 Watch "Micailhuitl" highlights:
Learn more about Erick Modesto and Ballet Folklorico Nueva Juventud

HERE

.