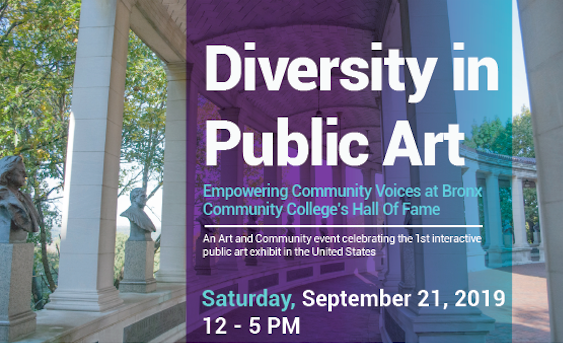 "Great Bronxites"
Storytelling at Diversity in Public Art: Reclaiming the Hall
Saturday, September 21, 1:00-2:00pm
Bronx Community College, 2155 University Avenue
Join us for "Great Bronxites" storytelling performances in Bronx Community College's Hall of Fame for Great Americans.
Bronx Community College holds the first hall of fame ever established in the United States. It includes busts of famous authors, architects, inventors, military leaders, theologians, philanthropists, humanitarians, scientists, statesmen, artists, and explorers. For years, there have been attempts by historians, archivists, faculty, and students at BCC to re-envision the historic Hall of Fame so that it may better resonate with its surroundings.
Last year BCC removed the Robert E. Lee and Stonewall Jackson busts from the Hall.
This September, they're holding Diversity in Public Art: Reclaiming the Hall, a day-long public art and community event that reimagines the Hall of Fame with performances, activities, and art installations.
The Five Boro Story Project is taking this opportunity to honor the people who make this borough truly great. From 1:00-2:00pm we're taking over the Hall of Fame for storytelling performances about Great Bronxites, featuring:
Latanya DeVaughn – lifelong South Bronx resident, writer, teacher, mother, and the Founder and CEO of Bronx Bound Books, a bookstore on wheels
James McSherry – award-winning writer, filmmaker and educator from Throgs Neck and Castle Hill, and author of A Clean Street's A Happy Street
Peggy Robles-Alvarado – poet, author of Conversations With My Skin and Homage To The Warrior Women, BRIO award winner, CantoMundo Fellow, and International Latino Book Award winner
Hear true stories about people who touch our lives and make our communities great places to live, but who haven't received public recognition – until today.
Following the performances, tell us who you would memorialize for making the Bronx great!
"DIVERSITY IN PUBLIC ART" EVENT INFORMATION:
Diversity in Public Art takes place from 12:00-5:00pm in various locations throughout Bronx Community College campus. Stay for a day of performances that express perspectives on inclusion, diversity, and bias in defining Great Americans through visual art, music, dance, spoken work, media and performance.
SCHEDULE
12:00 – Event opens; volunteers pass out programs/maps at the gates
12:30 – 1:00 – OPENING REMARKS and Garifuna music performance (Gould Memorial Library Auditorium)
1:00 – 2:00 – GREAT BRONXITES: Storytelling performances with the Five Boro Story Project (Hall of Fame)
1:15 – 5:00 – FILM SCREENINGS BEGIN and run continuously (GML Auditorium/Monitors in HoF Gallery)
1:30 – 2:15 – TOUR OF THE HALL OF FAME with Lloyd Ultan, Bronx Borough Historian (HoF)
1:30 – 2:30 – HALL OF FAME OR BUST PHOTO KIOSK activity runs for a limited time (HoF)
2:00 – 2:30 – STUDENT WORK PRESENTATION from Schomburg Center (GML Rotunda)
2:30 – 3:30 – POETRY READINGS (GML Rotunda) AND ALONA WEISS PERFORMANCE (HoF)
3:30 – 4:00 – Laundromat Project activity led by teaching artist Fay Bonas (GML Rotunda)
4:00 – 4:30 – HOWARD SKRILL & RICH GARR PLAQUES FOR SEDGWICK '73 (HoF)
4:30 – 5:00 – AWARD CEREMONY/CLOSING, REMARKS (GML Rotunda)
DIRECTIONS:
The main entrance to Bronx Community College is 2155 University Avenue. The closest train is the 4 train at Burnside Avenue, or 183rd Street Station. It is also accessible by the Bx 3, 12, and 40/42 buses.
There is a separate entrance for cars: 200 Hall of Fame Terrace, The Bronx, NY 10453.
When you enter the Bronx Community College Campus, there will be volunteers with campus maps who can point you in the right direction.
For detailed directions for car and public transportation and for a campus map, please CLICK HERE.
View photos from Great Bronxites

HERE

.