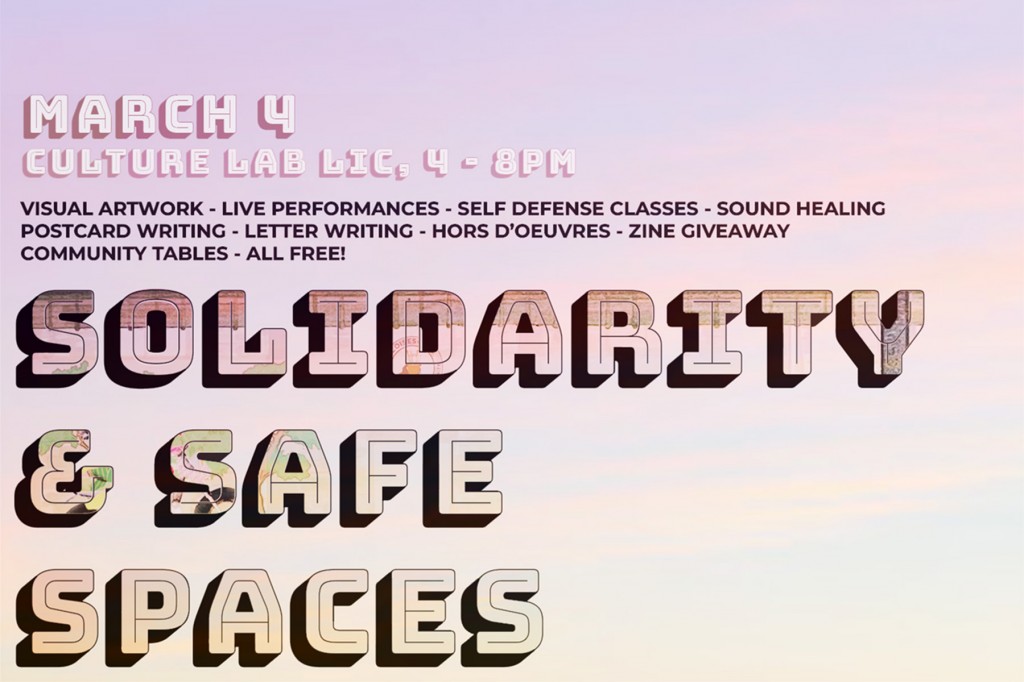 Solidarity & Safe Spaces Exhibition Opening
Culture Lab LIC, 5-25 46th Avenue, Long Island City, Queens
Saturday, March 4, 4:00-8:00pm
Our friends Diverse Streets Initiative have planned an opening celebration for their "Solidarity & Safe Spaces" zine launch and exhibition! Come enjoy a sound bath, self defense classes, live performances and artwork from artists and poets represented in the zine, and explore the connection between solidarity, safety, home, and belonging.
SCHEDULE
4:00 PM – Community Fair
Connect with local community organizations
4:00 PM – Self Defense Classes
Learn the basics of self-defense and strategies to help you remain safe in public spaces with coach Jess Ng, also known as "Southpaw Stitches"
4:45 PM – Meditation & Sound Bath
Join urban shaman and spiritual healer Milena Carvajal George for "Evoke the Love: Inner Music," a healing sound experience and workshop
5:30 PM – Performances
Enjoy a variety of playful and heartfelt sounds and dances from katrina sotera, NATICA, Kalra Florez School of Dance, and Linda EPO.
6:00 PM – Show Opening
Walk through Culture Lab's Fire Room gallery, and see sculpture, film, photography, mixed media and more. Many of the works in the exhibit are referenced in "Solidarity and Safe Spaces," Diverse Streets Initiative's first joint Zine!
Space is limited! Advance registration is recommended. Please RSVP here.
The event and workshops are FREE but donations are appreciated. Contribute what you can; suggested donation of $5-20. A donation guarantees a copy of the zine.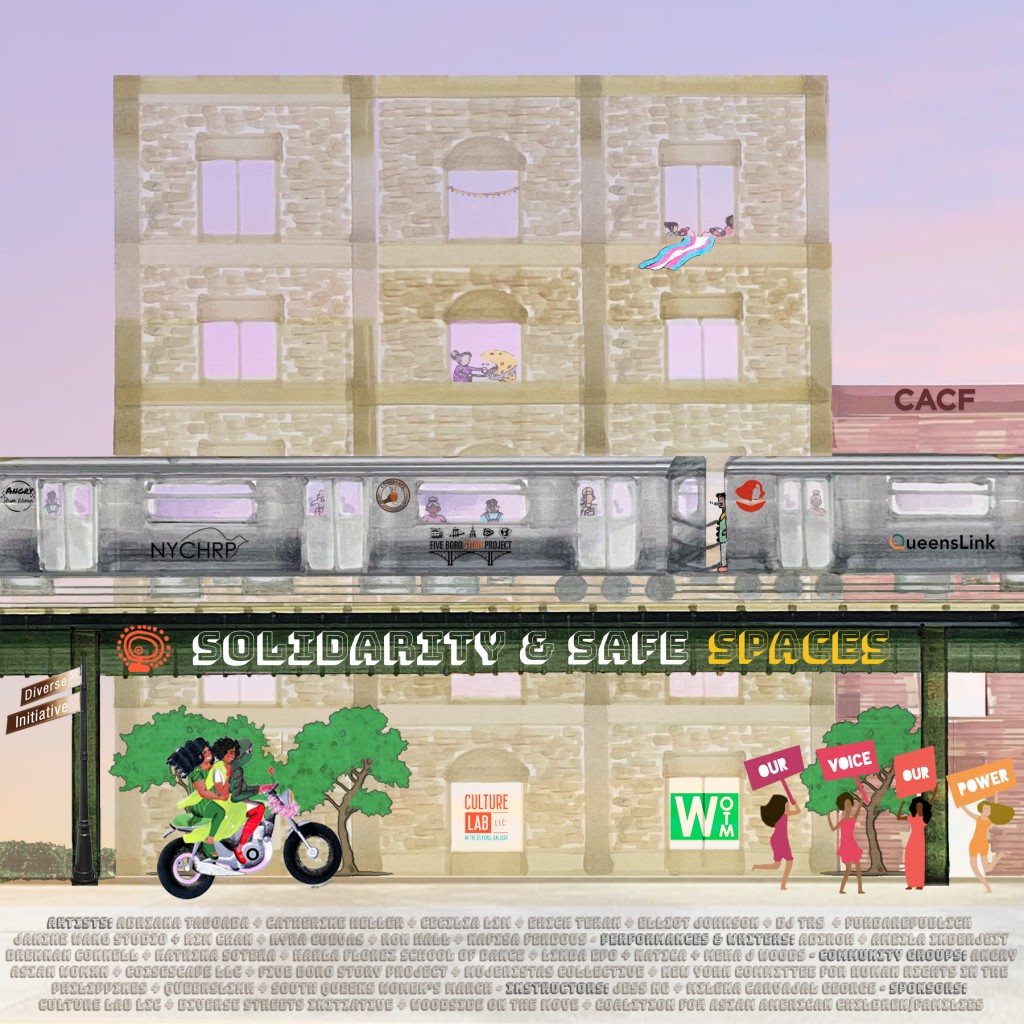 11 artists:
Adriana Taboada, Bridget Bartolini, Cecilia Lim, Catherine Heller, Elliot Johnson, Erick Tehran, Kim Chan, Kyra Cuevas, Janine Wang, Nafisa Ferdous, Ron Hall, Robert Thibault (DJ TRS)
9 writers/musicians/dancers:
Adiroh, Ameila Inderjeit, Brennan Connell, FurDaRepublick, Karla Florez School of Dance, katrina sotera, Linda EPO, NATICA, Meka J Woods
7 community organizations:
Angry Asian Womxn, Coisescapes LLC, Diverse Streets Initiative, Five Boro Story Project, Mujeristas Collective, New York Committee for Human Rights Philippines, South Queens Women's March, Queenslink
5 workshops:
Self Defense Classes, Soundbowl Healing / Soundbath, Community Tables and resources, Postcard writing for bodily autonomy, Letter mailing for racial rights
Hors'doeuvres:
Kabisera, Fresco's Grand Cantina, Popilee NYC
DIRECTIONS:
Culture Lab LIC is located at 5-25 46th Avenue, Long Island City, NY, 11101. The closest station is Court Square stop on the 7 and G trains. We will be inside the Fire Room gallery.
The event is sponsored by Diverse Streets Initiative, Woodside on the Move and Coalition for Asian American Families and Children.