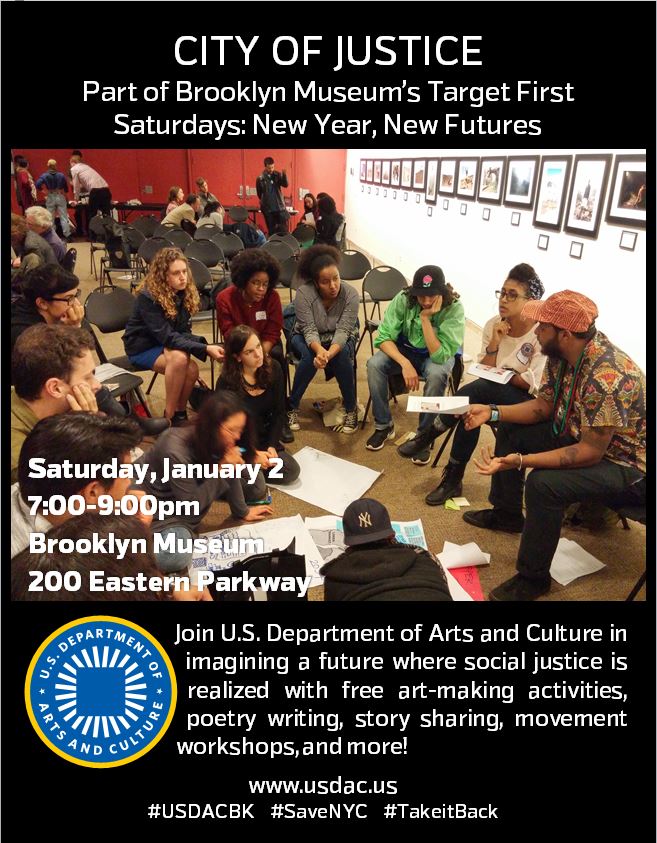 City of Justice
Saturday, January 2nd, 7-9pm
Brooklyn Museum (200 Eastern Parkway)
Ring in 2016 with the people-powered US Department of Arts & Culture (USDAC) and the Five Boro Story Project as we transform the Brooklyn Museum's 3rd floor Beaux Arts Court space into the "City of Justice."
New York City has reached an affordability crisis of unprecedented proportions. Brooklyn has officially become the most unaffordable housing market in the country. Homelessness has reached its highest levels since the Great Depression, and uncounted thousands from low-middle income communities and communities of color are being displaced.
Our mission: turn this city of injustice into a City of Justice.
We invite you to an evening where we'll imagine 2016 and a future where social justice is realized with participatory art-making activities, poetry, writing, story sharing, theater, body movement and more!
Some of our "City of Justice" creative imagination stations include:
- "Justice Story Circle": Share your stories of hope and justice (facilitated by the Five Boro Story Project)
- "Letters to the Future": Write letters imagining how we saved NYC
- "Map Your Story": Contribute a story of displacement or gentrification
- "Memoriam Graffiti Wall": Draw or write messages to honor ancestors and/or living s/heroes in the fight for social justice
- "Poetry and Rhymes Corner": Contribute to a collective poem that reflections our visions of liberation
- "Theatre of the Oppressed Corner": Use your body to express collective images for justice
- And Much More!
As you enter this space you can map your story onto the larger story of loss, struggle, change, and hope. You can connect with others, listen to their words, and express your own through poetry and rhymes. Leave armed with info about housing rights and how to get involved. Then stay in touch! Let's create a New York City for all, together.
This event is part of the Brooklyn Museum's "New Year, New Futures" Free First Saturday and is organized by the USDAC NYC Field Office. The Planning Team includes Betty Yu, NYC Cultural Agent; Bridget Bartolini and Nadia Mohamed, Field Office members; and local NYC artists, cultural workers and activists who have teamed up to facilitate participatory imagination stations.
For the entire schedule for January 2nd's First Saturday go to: https://www.brooklynmuseum.org/visit/first_saturdays
See photos from "City of Justice"

HERE

.