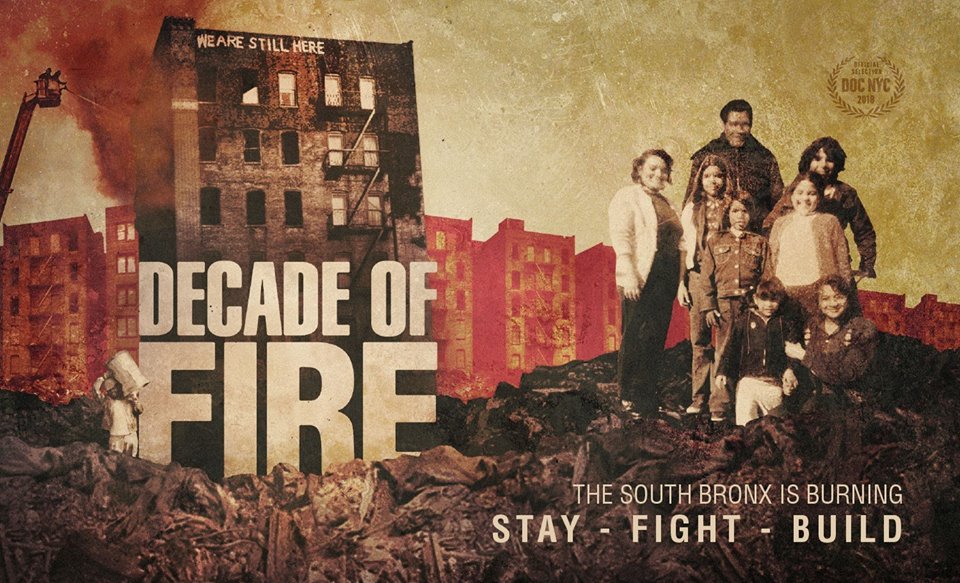 Bushwick Love Letter at "Decade of Fire" Screening
Friday, February 22, 6:30pm
Mayday Space, 176 St Nicholas Ave
Join us for a special screening and community dinner at Mayday Space!
Come watch the rousing new documentary Decade Of Fire, break bread, and trace how displacement impacts our neighborhoods and our lives, from the South Bronx in the '70s to today's struggles in Bushwick and beyond.
ABOUT DECADE OF FIRE:
Throughout the 1970′s fires consumed the South Bronx. Black and Puerto Rican residents were blamed for the devastation even as they battled to save their neighborhoods. Now, Bronx-born Vivian Vazquez is pursuing the truth: uncovering policies of racism and neglect that still shape our cities, and offering hope to communities on the brink today.
SCHEDULE:
6:30 – Doors open; pre-film music, drinks & snacks; Bushwick Love Letter station to read and write neighborhood love notes, viewing stations of video interviews with Bushwick residents talking about gentrification and housing activism
7:00 – Welcome, intro to film, and screening of Decade Of Fire
8:30 – Discussion moderated by Cynthia Tobar of Cities for People, Not for Profit with film director/star Vivian Vazquez and Bushwick community leaders
9:00 – Communal dinner: the Mayday crew offers a free home-cooked meal around tables where everyone can reflect on the film, learn from long-term residents, and re-imagine the city we want and deserve!
10:00 – After drinks at Starr Bar (Mayday's sister space at 214 Starr St, a short walk away)
FREE EVENT. Donations accepted.
DIRECTIONS: Mayday Space is located at 176 St Nicholas Avenue in Bushwick, a short walk from Dekalb Ave on the L train.
ACCESSIBILITY: Childcare and Spanish interpretation available (film has Spanish subtitles). This event is taking place on Mayday's 3rd floor Great Hall up two flights (unfortunately no elevator).
RSVP: Please RSVP HERE to secure your spot.
The Five Boro Story Project is honored to be one of the sponsors for the the Bushwick premiere of Decade Of Fire, in coordination with a dozen organizations in battleground neighborhoods, including Anti-Eviction Mapping Project, the Brooklyn Anti-Gentrification Network, Cuir Kitchen Brigade, El Puente, G Rebls, Mayday Space, Mi Casa No Es Su Casa, Ridgewood Tenants Union, United Neighbors Organization, and Club A Kitchen.
After the NYC roll out of the film, Decade Of Fire will hit the road to spark community engagement and support grassroots movements in cities facing displacement and neglect from Detroit to Puerto Rico.